On Air: for Healthcare Radio-thon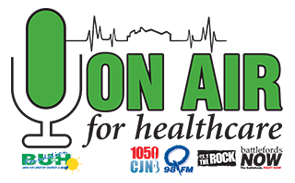 On Air: for Heathcare Radio-thon
is an on-going campaign.
Donations will be accepted throughout the year and an
official tax receipt will be issued.
Your generosity is greatly appreciated!!!
CHECK OUT WHAT THE LATEST CAMPAIGN IS ALL ABOUT!!
Your donation and support has the power to change the future of
healthcare at BUH.
5TH ANNUAL ON AIR FOR HEALTHCARE RADIOTHON COMING IN MAY!!
The 2020 On Air: for Healthcare Radio-thon has been postponed due to COVID-19. However, healthcare is not cancelled and we still need your help! Please help us in the final push to raise funds to purchase new birthing beds and new fetal monitors for Women's Health & Birthing Centre at BUH. To give, simply click "Donate Now" on the right, call 306-446-6652, or drop your donation in the mail at Box 1358, North Battleford, SK S9A 3L8.
We are grateful for the continued support, as you are able, to help enrich patient care and ensure that COVID-19 doesn't stop that which is most important. Thank you for giving. Stay safe!
Battlefords Union Hospital (BUH) Foundation and CJNB/Q98/93.3 The Rock/ BattlefordsNOW of the Jim Pattison Broadcast Group and presenting sponsor, Fisher's Drug Store, have once again partnered to raise funds to provide enriched healthcare for The Battlefords and surrounding communities. The 2020 "On Air: for Healthcare" Radio-thon will take place in BUH's main lobby, Friday May 8th with broadcasting starting at 6:00am on all three radio stations. Funds raised are for BUH Foundation's 2020 capital campaign "Ready. Set. Baby!" and will be directed towards new equipment for Women's Health & Birthing Centre (WHBC) at BUH.
BUH Foundation has committed to raise over $164,000 to purchase four new, specialized birthing beds, to replace the current ones that are reaching end of life, and three new monitors, one with cable-less technology, that can separately track mother's and baby's heart rate for enhanced diagnostics. Approximately 500 babies are born at BUH every year. Let's help provide the best for these families.
How You can be Involved:
BUH Foundation Board of Directors and staff invite all individuals, businesses and organizations to be a part of "Ready. Set. Baby!" capital campaign and support the purchase of new equipment for WHBC at BUH.
**Make your own donation on Radio-thon day and your name will be announced on air
**Better yet come to BUH and announce your donation on air
**Challenge other professionals and businesses to match your contribution
**Have some fun and host your own fundraiser
**Donate in honour of your children and grandchildren as you ensure the best care is here for them
**Recognize your employee's support and match their contributions
**Commit a maximum you will give, challenging others to reach a goal to receive it
**Give in memory of a loved one and honour their legacy
Remember every dollar adds up and will make a difference. Your donation combined with your neighbour's donation will help us reach our goal and provide you and your loved ones with the best care possible.
The 2016 "On Air: for Healthcare" Radio-thon was hugely successful and raised most of the $600,000 BUH Foundation had committed to the purchase of a new CT Scanner. In 2017 the community came through again and helped to raise the funds for the new Ears Nose & Throat Surgical equipment which had a campaign goal of $380,000. In 2018, "On Air: for Healthcare" Radio-thon contributed largely to the $216,000 campaign goal to purchase a new Central Cardiac Telemetry System to provide an up-to-date heart monitoring system within BUH. The community stepped up again in 2019 to reach the goal of $500,000 towards a new mammography unit for Medical Imaging to help detect breast cancers early and save lives. Thank you for the continued generosity that has made a difference to patients in our community. We are grateful!
For more information please call the Foundation office at 306 446 6652 or come and see us!
**Please note** Names and amounts donated will be read "On Air" on Friday, May 8th, unless otherwise indicated in the Message field when donating. Thank you.