Art of Courage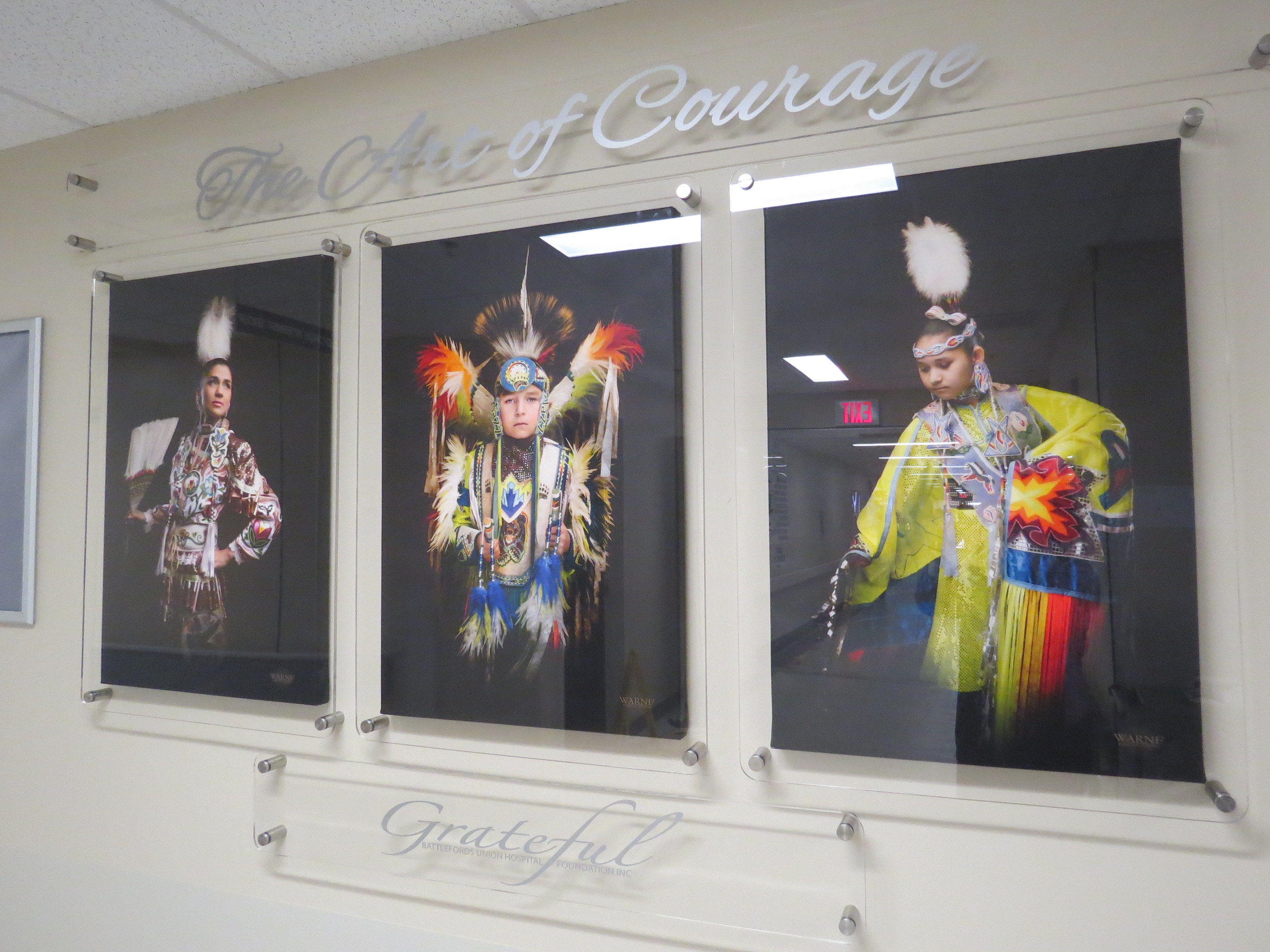 The Art of Courage Wall
Every day outpatients make their way up to the Third Floor at Battlefords Union Hospital (BUH) to go to their appointments: to the Chemotherapy Department to receive their intravenous chemotherapy medication, to the Dialysis Unit to have their three to six hour renal dialysis treatment, the Cardiac Stress Testing Room to have their ECGs completed while performing a strenuous activity, and the Pre-Operative Department to learn of their surgical procedure and what they must do prior to their surgery. Imagine the trepidation and anxiety these people and their families must feel as they go to these appointments. Some of you reading this can probably personally attest to this. BUH Foundation and Warne Photography have partnered to offer inspiration and motivation to these outpatients through the "Art of Courage" wall, an area that these patients must pass by as they go to the various departments.
Warne and Paula Noyce of Warne Photograph have donated their talent and have captured three most beautiful images with a camera. These have been put to canvas and will hang on the wall for one year. As patients pass these amazing images on their way to their worrying appointments, we believe that it will offer them encouragement and incentive for hope. What a powerful thing to be a part of.
The 2017 Art of Courage wall has been sponsored in full by BATC. The "Art of Courage" will be an annual fundraising event with a new theme every year. BUH Foundation is grateful to the models of Lacy Albert, Jazz and Landis Roan for allowing us to use their images for the 2017 First Nation theme. If you wish to view the Art of Courage wall or if you, your family or business has an interest in sponsoring the 2018 Art of Courage, which will be incorporating a new theme for that year, please come and see us at the Foundation Office in the Main Lobby at BUH or call 306 446 6652.
Your sponsorship means we can continue to enhance patient care and BUH and Battlefords Region Home Care though the purchase of technologically advanced medical equipment. Your donation stays and assists your family and friends in The Battlefords and surrounding area.
Sponsorship choices (for one year):
1) Single canvas $500
2) Two canvases $900
3) All three canvases $1,200
**The canvases remain the property of Warne Noyce and BUH Foundation.

We are grateful to Warne Photography for their kind assistance and support.
.