Food & Gift Shop
By purchasing items at BUH Foundation Food & Gift Shop you are helping to enrich patient care at Battlefords Union Hospital as all proceeds raised support BUH Foundation in their vision of "excellence in healthcare through community engagement."
If you would like to send flowers or a small gift to a friend or loved one at BUH, please call the Food & Gift Shop staff, 306-446-6662, and they will be happy to assist you.

Items offered in the Shop include: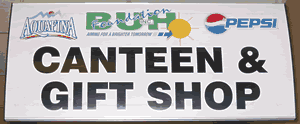 Fresh and Artificial Flowers
Greeting Cards and Balloons
Gift Items and Infant Apparel
Breast of Friends Cookbooks & Breast Cancer Support Items
Magazines and Sundry Items
Confectionary Items
Nevada Tickets
BUHF Monthly & $100,000 Lottery tickets (throughout the campaigns)
Prairie North Health Region values the benefits of healthy lifestyles and supports environments that promote healthy food choices. In implementing this policy, BUH Foundation Food & Gift Shop offers healthy choice alternatives, supplied fresh daily by Kitchen Zone. Items include fresh fruit cups, salads, sandwiches and yoghurt with granola. Pepsi "Good for You" products are also available along with individual size Dairyland milk and chocolate milk products.

In - hospital services offered by the Shop include telephone and TV rental. Cable service is donated in part by Access Communications.


| | | |
| --- | --- | --- |
| Canteen hours: | Monday - Friday | 10:00am - 8:00pm |
| | Weekends | 1:30pm - 6:00pm |
| | Statutory Holidays | Closed |
For more information call 306-446-6662.