Media Release
BUHF Welcomes New Executive Director
April 7th 2009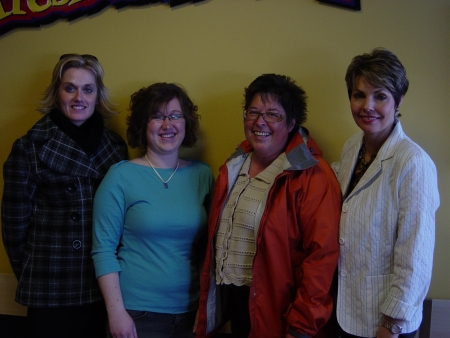 Pictured left to right are the existing Battlefords Union Hospital Foundation staff including Renee Belyk (outgoing Executive Director), Shauna McGifford (Accounting Clerk), JoAnn McCaffrey (Receptionist) and Ilse Moolman (Special Events Coordinator).
Renee Belyk, Executive Director of Battlefords Union Hospital (BUH) Foundation, recently resigned from her position. Being a Certified General Accountant, Renee has a strong financial background and has accepted an employment opportunity with the local accounting firm Swanson, Gryba & Company. Filling the role of Executive Director for just over two years, Renee contributed to the overall success of the Foundation by assisting in the further development of the four main fundraising events, initiation of Direct Mail Campaigns, as well as significantly contributing to the completion of many projects including the approval of various grant applications benefiting the Foundation.
"My time with BUH Foundation has been a great learning experience and it was definitely a tough decision to make a career change", states Renee. "The staff, volunteers and Board of Directors are all integral parts of the Foundation. The staff was truly wonderful to work with and we have developed everlasting friendships as a result of our time together. The volunteers are an essential part of the Foundation and without their commitment to assist with the special events there continued success would not be possible. The current Board of Directors offers a wide variety of skills and abilities providing significant office support and strategic direction. Of course I've witnessed first hand the tremendous support for the Foundation from individuals and businesses within the Battlefords and surrounding communities. For all these reasons, I can fully understand and appreciate why BUH Foundation is seen as the accountable, respected, charity of choice that it is today. My involvement over the past two years has indeed been a rewarding experience that I will continue to value in the years to come."
Claudette McGuire has been hired to fill the BUH Foundation Executive Director position. Claudette is well known in the community, having a background in healthcare and through working with numerous organizations within the area. She has also gained an understanding of various cultures and customs having lived overseas a number of years. Claudette is excited about the opportunity presented to her and plans to build on the past successes of the Foundation. She looks forward to meeting and working with the volunteers and the general community.