Media Release
Local Re/Max of the Battlefords Donation for Children
March 9th 2009
The RE/MAX - Children's Miracle Network affiliation began in 1986 when RE/MAX affiliates in Calgary, Alberta and the Quebec Region started raising funds for this worthy cause. In 1992, RE/MAX International adopted the Children's Miracle Network as its official corporate charity. To date Canadian RE/MAX Associates have collectively raised over $32 million for this worthy cause.
Since 1999 for every property purchased or sold through RE/MAX of the Battlefords from April 1st until June 30th the Sales Associates pledge a donation towards children's charities and to date have contributed over $10,000.00 to Battlefords Union Hospital and most recently in 2008 a cheque in the amount of $1,020.00 was presented to representatives of the Foundation. These funds will be allocated towards the enhancement of pediatric care at BUH. This year, 2009, RE/MAX of the Battlefords Agents have already contributed $737.50 to the Children's Health Foundation.
In Canada, RE/MAX continues to be a strong corporate contributor to the Children's Miracle Network - $4 million in 2008. With funds contributed by national sponsors like RE/MAX, affiliated hospitals are able to provide much needed medical care and equipment for more than 2.6 million Canadian children each year.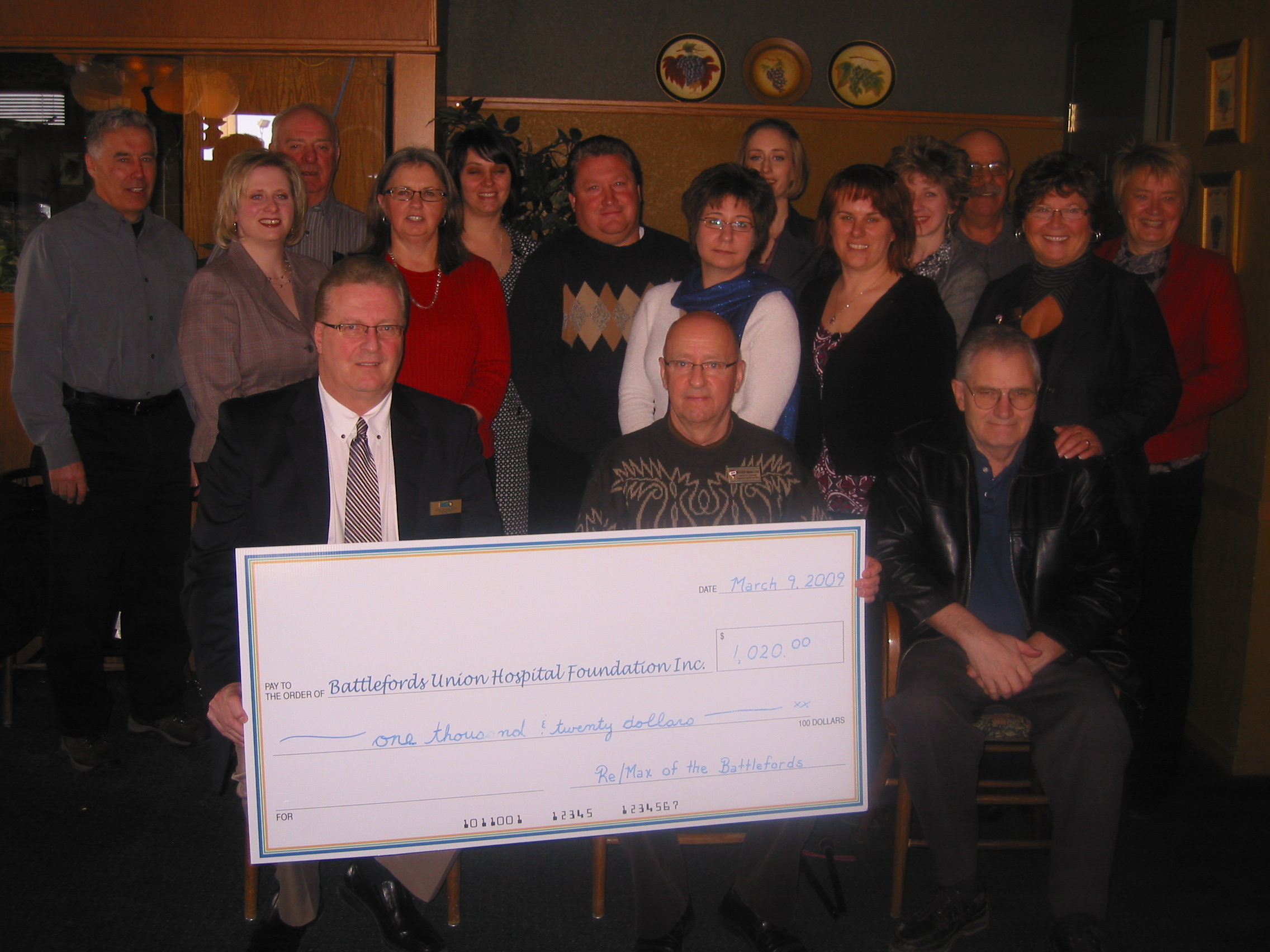 Pictured above left to right:
Back Row: Wally Lorenz, Lloyd Ledinski, Kayla Bobryk, Brett Payne, Kandice Tomaz, Glennda Ilett and Al White.
Middle Row: Alberta Mak, Dorothy Lehman, JoAnne Iverson, Louise Stuart, Elaine Elder and Lynne Burton.
Front Row: Rick Wheeldon (BUH Foundation Board Member) Roger Manegre and Ed Truelove.