Media Release
CN donates $50,000 to Battlefords Union Hospital
February 24th 2009
NORTH BATTLEFORD, Sask., Feb. 24, 2009 - CN today announced a $50,000 donation to the Battlefords Union Hospital Foundation for the purchase of new neonatal care equipment for the hospital's Women's Health & Birthing Centre.
"CN is proud to support the Battlefords Union Hospital Foundation and its efforts to give babies a healthy start to life," said Jim Vena, CN's senior vice-president, Western Region.
"Through the CN Stronger Communities Fund, we are committed to helping provide a healthier and safer environment for our youth."
Cheryl Gantefoer, chairperson of the Battlefords Union Hospital Foundation, said the donation has enabled the hospital to purchase an incubator and an infant warming system. Both these modern pieces of equipment help maintain a baby's temperature post-delivery, especially for those delivered prematurely, ill or by cesarean section.
"CN's generosity has made these necessary improvements a reality," said Gantefoer. "This new advanced care equipment will ensure a precise and consistent environment for infants while meeting the practical clinical needs of our health care providers."
She said about 40 babies are born each month in the Battlefords Union Hospital's Women's Health & Birthing Centre.
CN employs about 30 people in North Battleford and has operated trains here for more than a century.
Through the CN Stronger Communities Fund, the company supports health and safety programs for young people, transportation education, the CN Railroaders in the Community employee volunteer grant program and United Way. CN is committed as an Imagine Caring Company to contribute one per cent of pre-tax profit to registered, non-profit organizations in communities where our employees work and where we operate our business.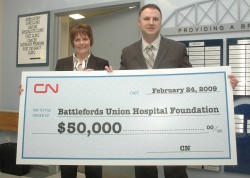 Pictured above, BUH Foundation Chairperson, Cheryl Gantefoer accepts the $50.000.00 cheque from Doug Ryhorchuk, Assistant General Manager of CN's Prairie Sub-Region. Photo courtesy of Doug Collie, The Daily News.

About CN
CN - Canadian National Railway Company and its operating railway subsidiaries - spans Canada and mid-America, from the Atlantic and Pacific oceans to the Gulf of Mexico, serving the ports of Vancouver, Prince Rupert, B.C., Montreal, Halifax, New Orleans, and Mobile, Ala., and the key metropolitan areas of Toronto, Buffalo, Chicago, Detroit, Duluth, Minn./Superior, Wis., Green Bay, Wis., Minneapolis/St. Paul, Memphis.