Media Release
Giving Back
August 19th 2010
FORMER NORTH BATTLEFORD CITIZEN GIVES BACK TO THE COMMUNITY
WITH A $60,000.00 DONATION
In early December Battlefords Union Hospital Foundation staff were pleased, as always, to receive a phone call from someone wanting to make a donation to BUH Foundation. However, this pleasure turned into grateful surprise when the donor, former citizen of North Battleford, Mr Ron Close indicated that he planned to donate $60,000.00! It isn't everyday that we get a phone call out of the blue with someone wanting to donate such a large sum, stated Cheryl Gantefoer, Board of Directors Chairperson, BUH Foundation, but we are very grateful to receive it, and plans are underway with BUH for the most appropriate and needed area to put this funding toward.
Ron and his late wife Reta were longtime citizens of North Battleford, having moved here in 1951 as the new owners of the Grand Hotel. They changed the name to the Beaver Hotel in 1952 and in 1961 Ron and Reta built a new hotel on the site, naming it the Beaver Motor Hotel. Reta and I decided to build something larger and grander. Ron and his wife continued to operate this landmark establishment until 1978 when they retired and sold the hotel.
Ron and Reta were active members of The Battlefords community, and Ron served on several service clubs, as well as the local Public School Board, Associated Canadian Travelers, and The Battlefords Shrine Club. Ron was also very supportive of the North Battleford Golf & Country Club during its move to their beautiful present location on the North Saskatchewan River hills, and his membership number was in the teens. He remembers fondly getting a Hole-in-One there and still has his trophy on display to prove it. Reta was active in the community, particularly as a volunteer for the Canadian Red Cross. While she lived in North Battleford, the Red Cross awarded her a medal of Service and a Citation for her many years of outstanding service and leadership.

Following their retirement Ron and Reta lived on Vancouver Island for some time, wintering in California. This was followed by a move to Regina to be closer to family. Reta passed away September 2004 following a lengthy illness.
Ron and his late wife Reta have two children: Patrick, who lives in Regina, is a visual artist and is actively involved with the arts and creative industries; and Dr Susan Close who is a professor in the Faculty of Architecture in the University of Manitoba and a Senior Fellow of St John's College, in Winnipeg.
Ron, who will be 89 years old in July, still returns to visit friends and neighbours in The Battlefords and it was while he was here last summer that he decided he wanted to make a contribution to BUH Foundation. I have fond memories of this community and felt it would be fitting to donate in memory of my wife Reta and myself. It is with pleasure that I am able to do this, stated Ron, and I know that my wife would agree.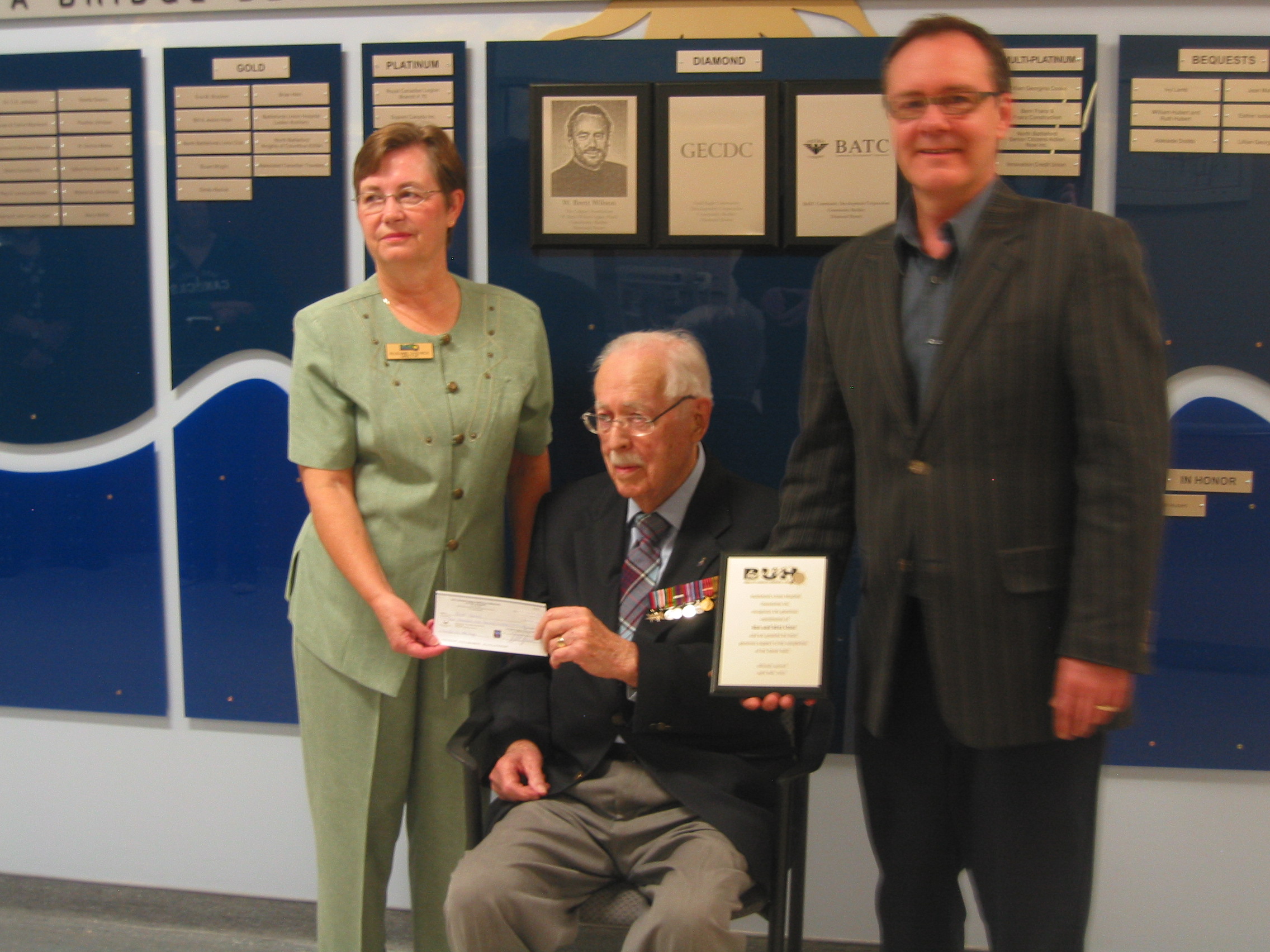 (l-r) Rojeanne Chadwick, BUHF Board Member accepting the donation from Ron Close, with Ben Christensen, BUHF Board Member & Praire North Regional Health Authority Representative holding the plaque to be displayed by the new Donor Wall, in recognition of Mr. Close's donation.