Media Release
Local SaskTel Pioneers Give to BUH Palliative Care
July 19th 2011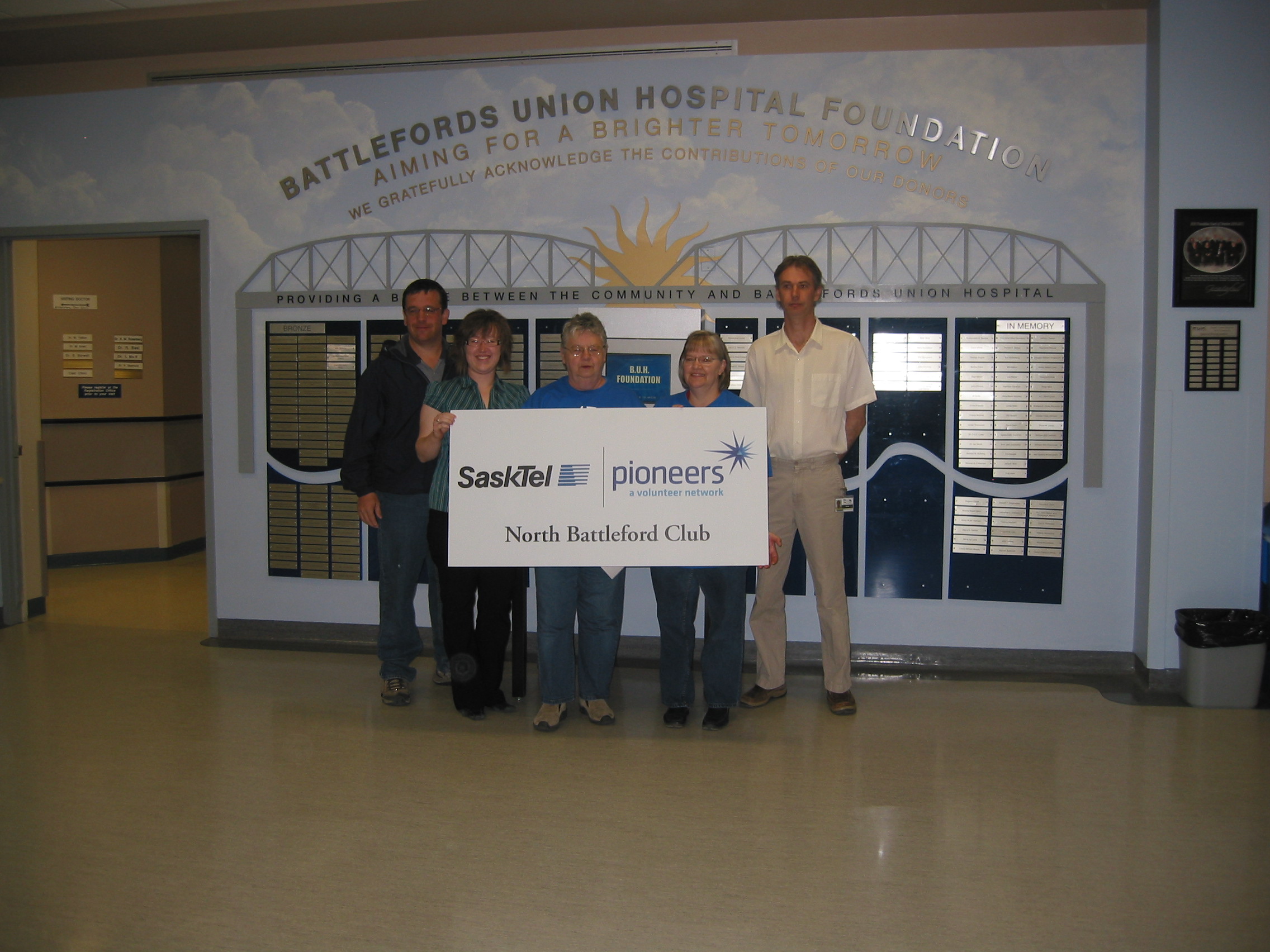 (l-r) Brent Degenstein, Secretary of SaskTel Pioneers, Shauna McGifford, Fund Development Officer, Sharon Nixon, President of SaskTel Pioneers, Sharon Bogdan, Treasurer of SaskTel Pioneers and Scott Parker, Palliative Care Coordinator.
North Battleford, SK - SaskTel Pioneers have once again shown their spirit of generosity and community support as they increase their giving to Battlefords Union Hospital's (BUH) Palliative Care. Since 1999 SaskTel Pioneers have been providing funding to cover the telephone expense in the original two Palliative Care rooms. Their latest contribution will include the additional two rooms, thus allowing SaskTel Pioneers to provide the telephone service for all Palliative Care patients and their families, at no cost to them.
"The North Battleford Club is pleased that they are able to provide this service to palliative care patients and their families, during what can be a very stressful time in their lives," says Club President, Sharon Nixon.
SaskTel Pioneers have been a supporter of BUH Foundation since it was founded in 1992. They have helped to purchase an adjustable bed and treadmill for physiotherapy, a cryotherapy unit for Women's Health & Birthing Centre, and supported the Renal Dialysis Unit and purchase of the CT Scanner for Medical Imaging. Their volunteer work has recently included operating the Sweet Shoppe at BUH Foundation's Festival of Trees.
The Palliative Care department at BUH is a "program of care" whose services are for those individuals diagnosed with or affected by a life threatening illness. The primary goal is that each patient and family member will be supported through this time of illness, death, and bereavement according to their needs and wishes. Communication is key in identifying and facilitating these goals.
"The opportunity of patients and families to speak with loved ones who may not be able to be present is an important aspect of a person's care, and we are thankful for SaskTel Pioneer's gift to provide phone lines to all of our rooms," shares Scott Parker, Palliative Care Coordinator.
"We are grateful for all the support provided to BUH Foundation by SaskTel Pioneers over the years. This latest contribution is an example of their generosity and community pride as they give back and we greatly appreciate their thoughtfulness as they recognize the worthiness of providing the telephone service to families staying in Palliative Care," states Claudette McGuire, Executive Director of BUH Foundation.
If you would like further information on how you too can support the Palliative Care department at BUH please visit www.buhfoundation.com or call 306-446-6652.