Media Release
TD Grants in Medical Excellence
July 19th 2011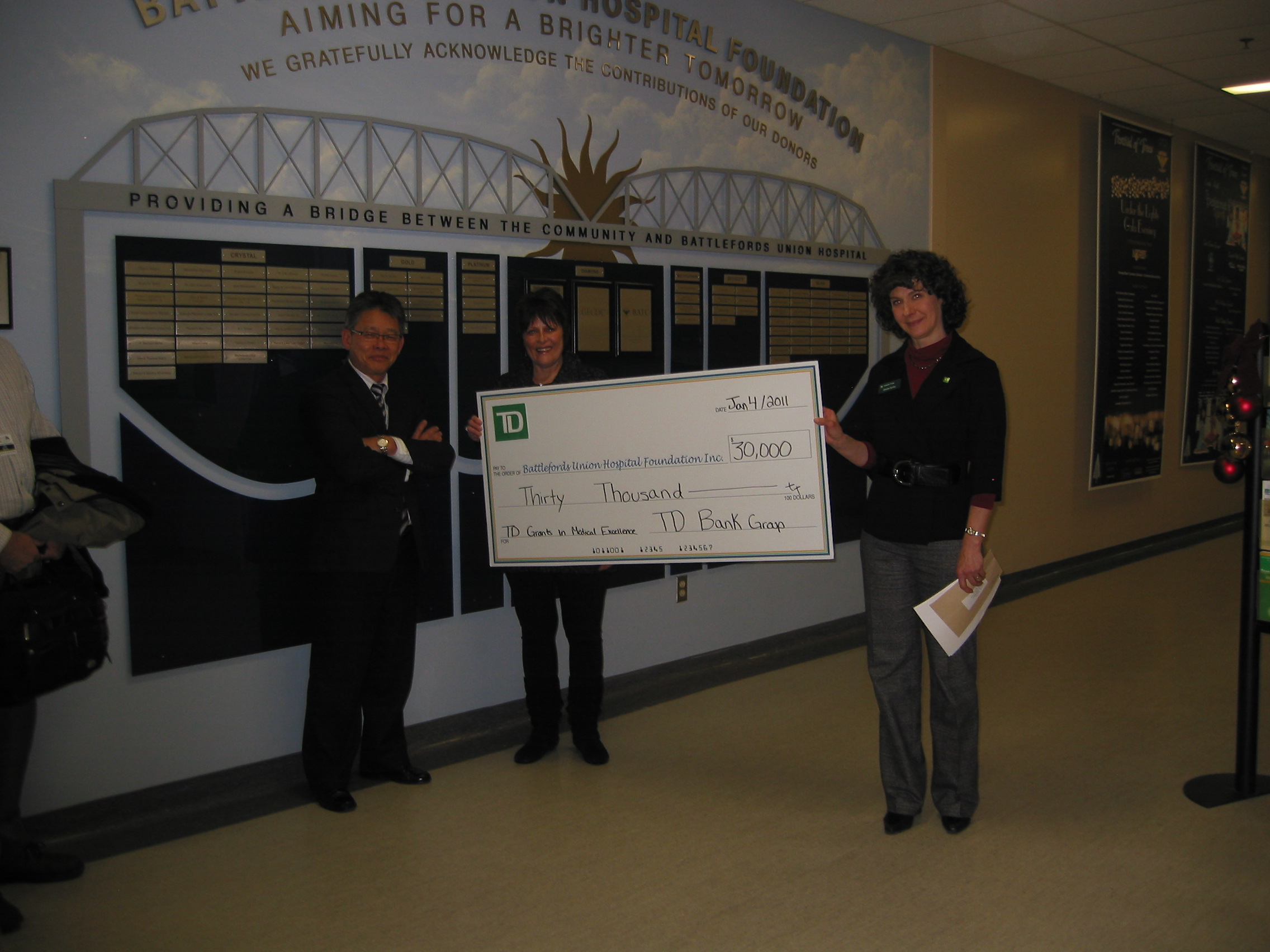 (l-r) David Fan, CEO Prairie North Health Region, Cheryl Gantefoer BUHF Chairperson, and Donna Turner, Branch Manager TD Canada Trust
Battlefords Union Hospital Foundation continues Medical Education with $30,000 donation from TD Bank Group
North Battleford, SK TD Bank Group today announced one of its largest gifts to date in North Battleford with a $30,000 donation to Battlefords Union Hospital Foundation (BUH). TD's financial support will provide for the ongoing training of health care professionals within the Battlefords Region.
"TD is donating $30,000 under the TD Grants in Medical Excellence program to help this generation of health care practitioners receive the best education and training possible," said Donna Turner, Branch Manager, TD Canada Trust. "We're proud to join with Battlefords Union Hospital Foundation to invest in the future vitality of Saskatchewan's health care community."
The Battlefords Union Hospital's nurses and allied professionals work in a highly technical and constantly changing environment, requiring ongoing education and incorporation of new medical practices and procedures, techniques, equipment and pharmaceutical advances. The BUH Foundation views this evolution as positive and with the support of TD, will help to ensure its employees are at the forefront of medical advances.
"We are very pleased to be able to have this additional opportunity to advance education to BUH staff through the generosity of TD and the TD Grants in Medical Excellence program," said Cheryl Gantefoer, Chair of the BUH Foundation Board of Directors.
Through an application and selection process administered by the BUH Foundation's Board of Directors, BUH health care professionals wishing to maintain or upgrade their skills through education courses or conferences may be eligible to access a maximum of $500 per year from the TD Grants in Medical Excellence. This program will be available to BUH health care professionals from January 2011 until December 2013.
"TD is to be commended for this commitment which will support excellence in health care education, not only today, but well into the future," says Claudette McGuire, Executive Director, Battlefords Union Hospital Foundation. "They have made education a key priority area, and by supporting established health care professionals their gift will have a lasting impact on the full spectrum of care for the community."
- 30 -
For further information please contact:
Claudette McGuire
Battlefords Union Hospital Foundation
306. 446.6652
Claudette.McGuire@pnrha.ca
or

Ellen Dungen
TD Bank Group
403.294.5685

BUH Foundation: Excellence in Health Care through Community Engagement
Through responsible stewardship of community contributions and volunteer resources, BUH Foundation is dedicated to enriching patient care at BUH. BUH Foundation, operating independently of other health care organizations, supports funding for the purchase of capital/non-capital equipment and staff education enhancing patient care services at BUH enriching patient care services at BUH.
TD Community Giving: Making a Difference Together
We strive to make a meaningful difference in the communities where we do business and where our employees live and work. We channel our efforts into three community giving priorities: education and financial literacy; creating opportunities for young people; and the environment. Our customers, clients and employees have told us these are the areas that matter most to them, and they're the backbone of our community giving strategy which aims to:
· Create opportunities for young people so they can fulfill their potential
· Work with diverse communities, and communities in need, to build a more prosperous and inclusive future
· Protect and enhance the environment; and
· Engage our employees, customers and partners to make a difference together in our communities.