Media Release
BATC CDC Donates $50,000 to Healthcare
November 26th 2021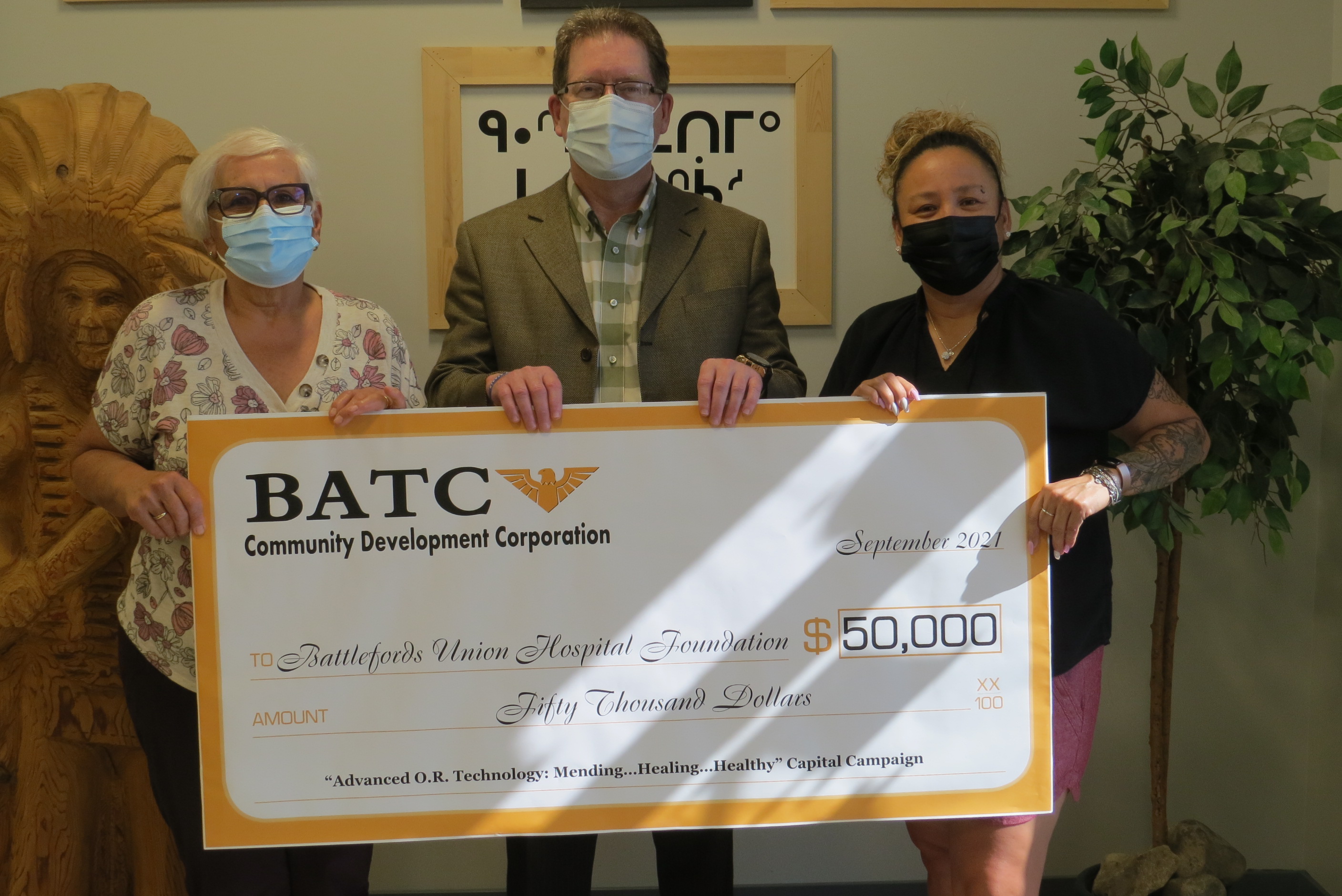 (l-r) Sue Pruden-McIvor, BUH Foundation Board of Directors Chairperson; Mayor David Gillan, BATC CDC Representative; Councillor Trina Albert, BATC CDC
North Battleford, SK – BATC Community Development Corporation (CDC) donates $50,000 to Battlefords Union Hospital (BUH) Foundation in support of "Advanced O.R. Technology: Mending…Healing…Healthy" capital campaign. This capital campaign is raising funds to purchase two of the four new anesthetic machines in the Operating Room (OR) at BUH.
"We have received wonderful support for this campaign and we are grateful to BATC CDC for once again supporting the needs of healthcare within our community," shares Sue Pruden-McIvor, BUH Foundation Board of Directors Chairperson, "the contribution from BATC CDC is a significant donation that helps bring us closer to reaching the goal for this campaign."
The fundraising goal for "Advanced O.R. Technology: Mending…Healing…Healthy" capital campaign is over $200,000. The campaign will fund two of the four new anesthetic machines required for the OR at BUH. The OR at BUH runs four theatres, each with their own anesthetic machine, and completes approximately 3,000 surgical procedures each year. An anesthetic machine safely monitors, ventilates and oxygenates patients during their surgical procedures. This ensures a drug-induced, reversible state of unconsciousness, loss of memory, pain relief and relaxation of muscles for patients. Surgeons are then able to complete the surgical procedures in a safe and timely manner for best patient care.
The new anesthetic machines can help provide better outcomes for patients and make the whole process safer. They will provide increased monitoring capabilities, allowing doctors to detect any changes in patients earlier and make adjustments sooner. The former units have served the patients and surgeons well in the last fifteen years, and the new units will ensure this high level of quality, safe and efficient care is continued within The Battlefords.
BATC CDC has supported BUH Foundation since 2007. They have provided almost $1 million in funding for new, up-to-date medical equipment and participated in recent capital campaigns to fund new equipment for the laboratory at BUH and Women's Health & Birthing Centre. BATC CDC is a proud sponsor and participant of BUH Foundation`s annual Festival of Trees.
Donors may contribute towards "Advanced O.R. Technology: Mending…Healing…Healthy" at any time throughout the campaign, which will be looking to wrap up in the new year. For further details or questions regarding "Advanced O.R. Technology: Mending…Healing…Healthy" or to learn more about the work of BUH Foundation, please contact 306-446-6652 or email leanne.ducommun@buhfoundation.ca.
-30-