Media Release
"'Diagnostic Detectives: Solving your Health Mysteries' to Fund BUH Lab Equipment"
October 20th 2020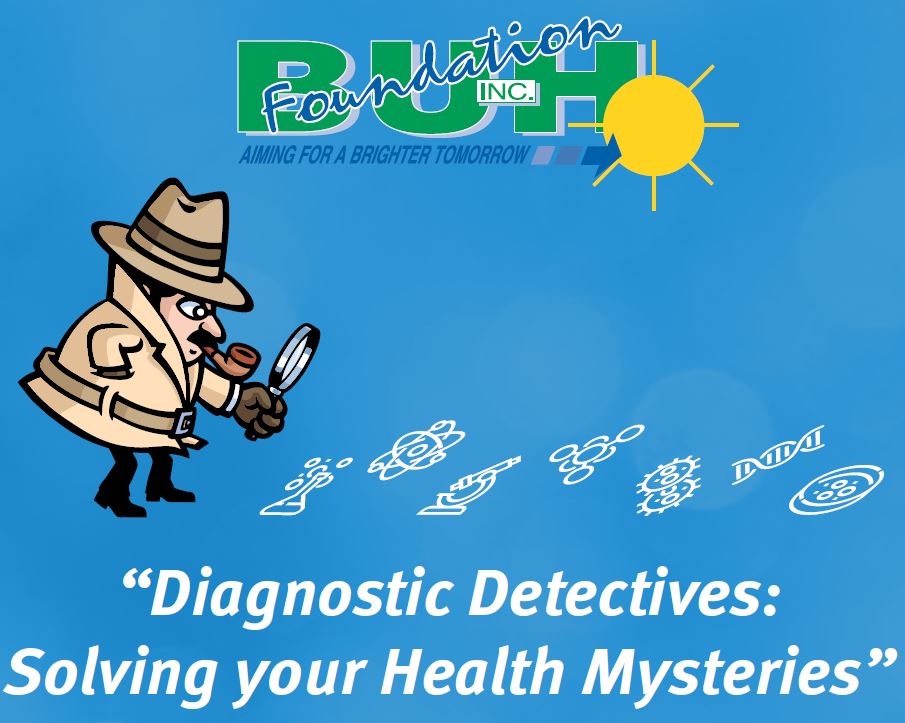 North Battleford, SK – Battlefords Union Hospital (BUH) Foundation is pleased to announce the organization's current capital campaign, "Diagnostic Detectives: Solving your Health Mysteries" in support of new equipment and technology for the laboratory department at BUH. Lab tests and their corresponding results are an integral part of diagnosing patients and providing the proper course of treatment.
"It is absolutely amazing the 'behind the scenes' look at the lab at BUH. No one ever sees their department but they are so busy and so important to much of what happens with patient care. You can't have a hospital and can't diagnosis many illnesses and diseases without the lab services," shares Claudette McGuire, BUH Foundation Executive Director, "we are thrilled to be able to help them maintain and improve the level of service and quality healthcare they are dedicated to providing for our communities."
BUH Laboratory provides Biochemistry, Hematology, Transfusion Medicine, Urinalysis, Microbiology and Pathology services to patients and families of The Battlefords (including Saskatchewan Hospital, long-term care facilities, clinics, Home Care and Primary Lab Services Centre) as well as surrounding areas including Lloydminster, Meadow Lake, Turtleford and Maidstone as well as many other rural facilities as far north as LaLoche. The laboratory reports over 600,000 tests annually and provides 24 hour, seven day a week service. Staff includes Medical Laboratory Technologists, Combined Laboratory and X-ray Technologists, Medical Laboratory Assistants, Medical Office Assistants, and Phlebotomists with Dr. Murray and Dr. Ruano as on site Pathologists. The lab staff ensures quality, prompt results from the analysis of specimens for both in-patients and out-patients and works closely and collaboratively with nursing, pharmacy and clinicians to provide patients with quality and timely results.
Funds raised for new equipment will allow for the replacement of equipment that has reached its end of life, as well as expanded services and upgrading of technology that aligns with provincial standardization. The new equipment will help the Lab staff at BUH to continue to provide high quality, timely healthcare to all communities and to ensure the safest, best possible care and experience for the health of all patients. The new equipment and technology results in faster turnaround time of tests, which means faster diagnosis and faster treatment for patients, with less waiting and anxiety. It provides the capacity and ability to increase lab availability, allowing more treatments to be provided within The Battlefords, saving trips to larger centres. It capitalizes on the knowledge and skills of the lab team and ensures they are more efficient and productive by providing the best in equipment and technology.
"We are so grateful for the funding we receive from BUH Foundation and its donors. I can guarantee you that it makes a difference and impacts the level of care provided. Lab services are essential to healthcare and we have a great team that are committed to providing the best," expressed Brandi Keller, Director of Lab Services, North, "we greatly appreciate being a part of this new capital campaign and thank you for supporting it and lab services at BUH."
Donors may contribute towards "Diagnostic Detectives: Solving your Health Mysteries" at any time throughout the campaign. Proceeds from BUH Foundation's $100,000 Cash Lottery and Festival of Trees will be directed to the campaign, as well as the 5th Annual "On Air: for Healthcare" Radio-thon held this fall. Recognition is also extended to Battlefords Ukrainian Senior Citizens whose generous donation was the start of the fundraiser.
For further details or questions regarding "Diagnostic Detectives: Solving your Health Mysteries" or to learn more about the work of BUH Foundation, please contact 306-446-6652 or email claudette.mcguire@buhfoundation.ca.
-30-
MEDIA:
For more information, contact:
Claudette McGuire
BUH Foundation Executive Director
Ph. 306-446-6652
Email: claudette.mcguire@buhfoundation.ca
About Battlefords Union Hospital (BUH) Foundation:
Battlefords Union Hospital (BUH) Foundation is dedicated to enriching patient care at BUH through responsible stewardship of community contributions and volunteer resources. BUH Foundation, operating independently of other healthcare organizations, is the main fundraising agency of BUH and provides funding for the purchase of capital/non-capital equipment and staff education. Through a bequest from Victor Pearsall in 2011, BUH Foundation began the Victor Pearsall Home Care Fund allowing funding for Battlefords Region Home Care. For more information about BUH Foundation visit www.buhfoundation.com.