Media Release
"Ready. Set. Baby!" Capital Campaign Celebrates New Equipment for BUH
September 30th 2020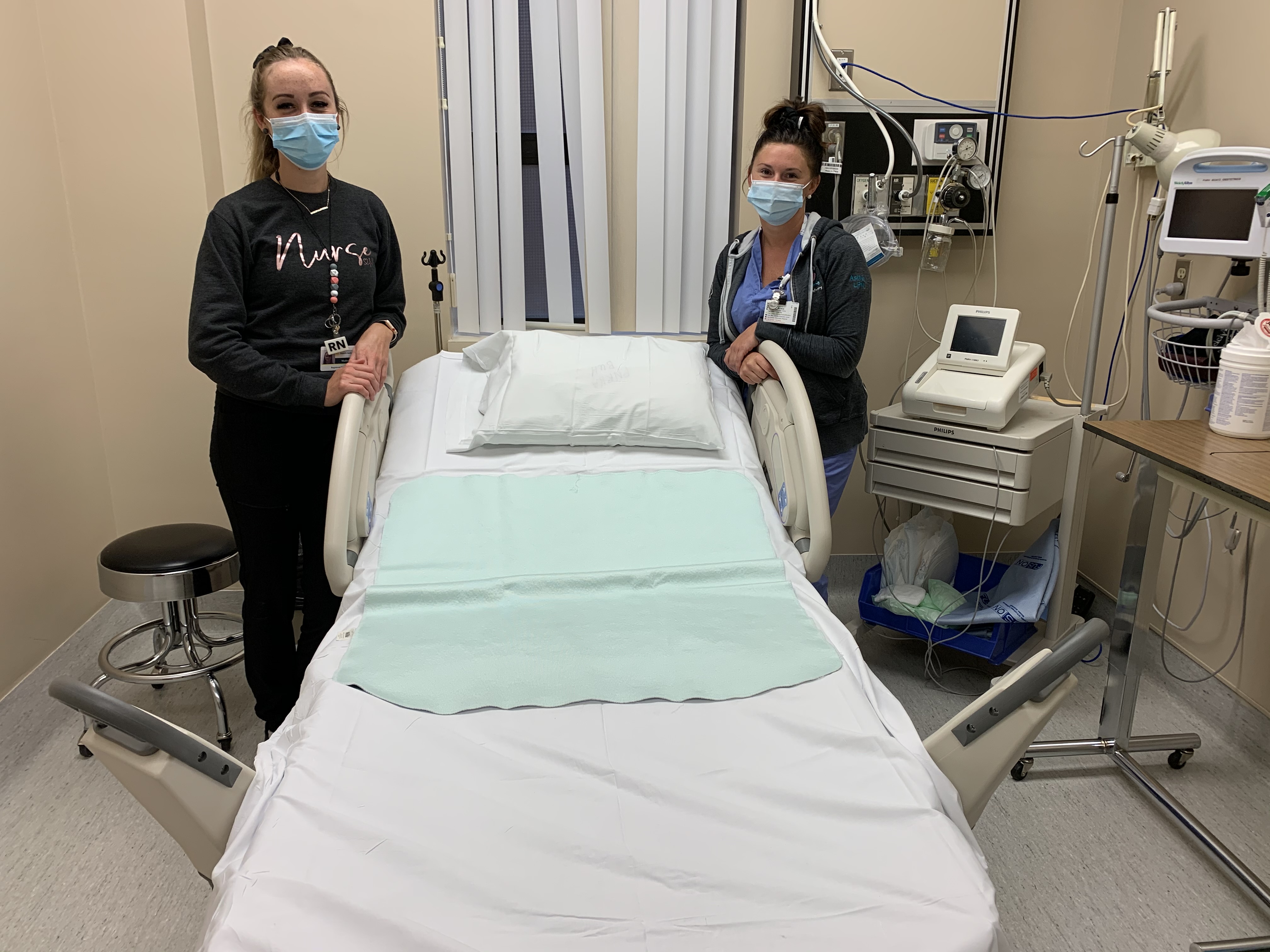 Women's Health & Birthing Centre nursing staff with one of the new birthing beds.
North Battleford, SK – Battlefords Union Hospital (BUH) Foundation celebrates the purchase of four new birthing beds and three new monitors for Women's Health & Birthing Centre (WHBC) at BUH. These purchases were funded through the 2019 / 2020 capital campaign, "Ready. Set. Baby!" that recently reached its fundraising goal.
"'Ready. Set. Baby!' campaign was started last September and we are pleased to announce its official completion as we have reached our goal to purchase new equipment for the mothers and babies that are born at BUH. The mission of BUH Foundation is to enrich patient care and with the support of The Battlefords and surrounding communities we are pleased to announce that once again, this has been done," shared Claudette McGuire, BUH Foundation Executive Director.
There are approximately 500 babies born at BUH each year and a comfortable and safe delivery is important to the medical team. The four new, specialized birthing beds will replace the previous beds that have reached their end of life. The birthing beds are designed to support mothers, babies and medical staff during the sometimes unpredictable delivery process. They can be configured to meet the patients' needs, often times at very critical points in delivery. The beds are standardized so any one can be transitioned safely and efficiently, while maximizing valuable time.
The three new monitors, one with cable-less technology, are replacement units for those that require updating due to new technology. All monitors can track the mother's and baby's heart rates separately, enhancing diagnostic confidence. This is critical to making informed decisions in a timely manner that can assist in early intervention to keep babies safe. The cable-less monitor is new technology for BUH and provides freedom of movement for mothers during labour, which can ease discomfort. The beds and monitors are all designed to allow medical staff to focus on the patient, not the equipment, so they can provide the best care possible.

"We are all just so excited and all looking forward to working with this new technology and to care for our patients, so that we can deliver safe patient care. The new technology will allow us, the nursing staff to take better care of the patient in labour, in a safe manner. It will also make the experience for the mom in labour more comfortable and less restrictive. Thank you for providing this equipment," shared Lynette Van Der Merwe, R.N., Nurse Manager Women's Health & Birthing Centre.
"Ready. Set. Baby!" capital campaign had a fundraising goal of $164,000. Along with the generous donations from individuals and through the sale of JR's Designer Birdhouses, this goal was reached through the significant fundraising efforts and contributions from the following: Battlefords Ukrainian Senior Citizens; BATC Community Development Corporation; Discovery Co-op "Sip, Sparkle & Shop"; Stromberg Family Fund; North Battleford Lions Club; Meota Musical Productions; "Rock & Rattle" fundraiser; Kiwanis Club of The Battlefords; BUH Housekeeping; Nico Hawryliw Fund of Battlefords & District Community Foundation; and Historic Battlefords Lions Club.
-30-
MEDIA:
For more information, contact:
Claudette McGuire
BUH Foundation Executive Director
Ph. 306-446-6652
Email: claudette.mcguire@buhfoundation.ca

About Battlefords Union Hospital (BUH) Foundation:
Battlefords Union Hospital (BUH) Foundation is dedicated to enriching patient care at BUH through responsible stewardship of community contributions and volunteer resources. BUH Foundation, operating independently of other healthcare organizations, is the main fundraising agency of BUH and provides funding for the purchase of capital/non-capital equipment and staff education. Through a bequest from Victor Pearsall in 2011, BUH Foundation began the Victor Pearsall Home Care Fund allowing funding for Battlefords Region Home Care. For more information about BUH Foundation visit www.buhfoundation.com.