Media Release
BUH Foundation Holds Annual Meeting & Welcomes New Directors
June 23rd 2020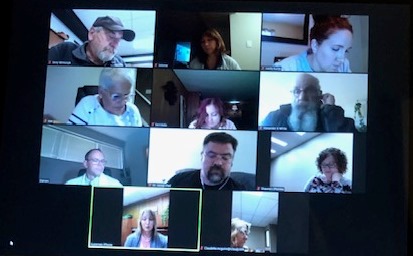 North Battleford, SK – Battlefords Union Hospital (BUH) Foundation held their 2019 / 2020 Annual General Meeting virtually on Wednesday, June 17th, 2020. It was a time to look back at the year that was and the successes and challenges that were faced in fundraising for healthcare; two Board of Directors completed their terms and stepped down, two new members were welcomed and a new Executive Committee for the 2020 / 2021 fiscal year was announced.
"This was my first year as Chairperson of BUH Foundation Board of Directors. As such, it was my pleasure to share the highlights of another successful and perhaps challenging year for the Foundation, with the economic changes happening at this time. Challenging times can bring us closer together and I believe we are a much stronger and cohesive organization for going through them," shared Sue Pruden-McIvor, BUH Foundation Chairperson.
The success of the 4th Annual "On Air: for Healthcare" Radio-thon that was held in May 2019 was noted. Proceeds from the 2019 Radio-thon supported "We Want to…Catch It! Stop It! Treat It!" capital campaign to purchase a new mammography unit for Medical Imaging to help detect breast cancer early and save lives. Upon completion of this campaign, the next capital campaign, "Ready. Set. Baby!" was introduced, which raised funds to purchase four new specialized birthing beds and three new fetal monitors, one with cable-less technology. These monitors can separately track the mother's and baby's heart rates for enhanced diagnostics. This campaign has a $164,000 goal and is still being finalized; however, the new birthing beds have been ordered and are in place for the benefit of patients and the medical team.
In August 2019, BUH Foundation hired Sherry Krelow as Executive Assistant to Special Events. Sherry is a welcome addition to the Foundation team and eager to reach out to the community and partner with them to enrich healthcare.
BUH Foundation operates within the new Saskatchewan Health Authority. This transition remains positive and BUH Foundation is pleased with the support they provide. As always, every dollar raised by BUH Foundation stays in the community and continues to enrich patient care in our local area.
"It is an honour to be a part of BUH Foundation and work with many amazing, kind and giving individuals. I am looking forward to another successful year, both in terms of fundraising plus growing and expanding ongoing projects and programs," expressed Claudette McGuire, BUH Foundation Executive Director.
As the meeting concluded, introductions were made of the new Board of Director members and announcement of the new 2020 / 2021 Executive Committee. Al White, Treasurer and Tim Sletten, Vice-Chairperson, completed their maximum three, two-year terms and had to step down as members. New Board of Directors, David Fan and Cheryl Mitchell were welcomed to their first two-year terms. Fan and Mitchell are familiar names within healthcare as Fan is the former CEO of the former Prairie North Health Region and Mitchell is the former Regional Director of Medical Imaging for the former Prairie North Health Region. Their knowledge and experience in healthcare will be an asset to BUH Foundation's Board of Directors. The new Executive Committee of Chairperson, Sue Pruden-McIvor; Vice-Chairperson, Joelle Kuntz; Treasurer, JoAnne Iverson; and Secretary, Jerry Wintonyk were announced.
"We are grateful for the support and advice Al and Tim provided to BUH Foundation during their years of service. We thank them for their commitment and know we will continue to see them in support of healthcare," expressed Pruden-McIvor, "we look forward to working with David and Cheryl and welcoming their knowledge and expertise of healthcare and our community. They will be wonderful additions to our Board."
Board of Directors, staff and volunteers of BUH Foundation are already working towards the success and challenges of the 2020 / 2021 fiscal year, as fundraising is adapted to face the new reality and challenges at this time. While the 5th Annual "On Air: for Healthcare" Radio-thon was postponed, the Wayne Pruden Memorial Golf Tournament was held in a virtual format in May/June and the $100,000 Cash Lottery is being planned for August. For further information on BUH Foundation annual fundraisers or programming please contact the Foundation office at 306-446-6652. The full 2019 / 2020 Annual Reports are available at the Foundation office for those interested.
-30-
MEDIA:
For more information, contact:
Claudette McGuire
BUH Foundation Executive Director
Ph. 306-446-6652
Email: claudette.mcguire@buhfoundation.ca
About Battlefords Union Hospital (BUH) Foundation:
Battlefords Union Hospital (BUH) Foundation is dedicated to enriching patient care at BUH through responsible stewardship of community contributions and volunteer resources. BUH Foundation, operating independently of other healthcare organizations, is the main fundraising agency of BUH and provides funding for the purchase of capital/non-capital equipment and staff education. Through a bequest from Victor Pearsall in 2011, BUH Foundation began the Victor Pearsall Home Care Fund allowing funding for Battlefords Region Home Care. For more information about BUH Foundation visit www.buhfoundation.com.