Media Release
The Art of Courage Wall Unveiled at BUH
March 29th 2017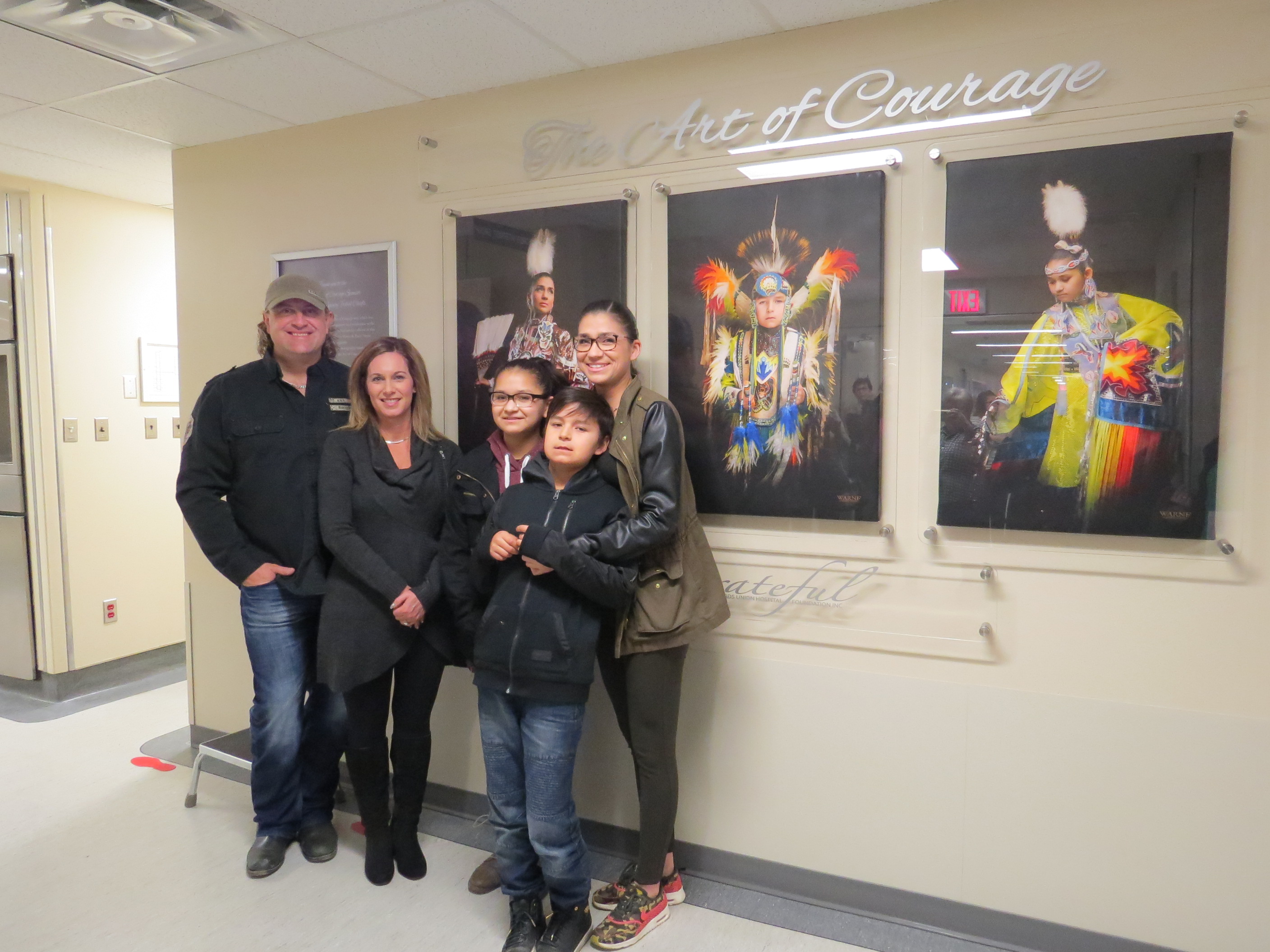 (l-r) Warne & Paula Noyce, photographers; Landis & Jazz Roan and Lacy Albert, models.
North Battleford, SK – Battlefords Union Hospital (BUH) Foundation was honoured to officially unveil "The Art of Courage" wall with distinguished guests and participants involved in the project. In attendance were representatives of BUH Foundation and BUH as well as Warne & Paula Noyce who donated their time and talent to take the photographs, Lacy Albert and her children Landis & Jazz Roan who donated their time and beauty to be the subjects of the photographs, Carey Tollefson and Darren Russell of Ultra Print who beautifully installed "The Art of Courage" wall, and representatives of Battlefords Agency Tribal Chiefs (BATC) who generously sponsored the first installation of the wall.
"BUH Foundation is grateful to all of those involved in "The Art of Courage" wall and who made this beautiful installation possible. We have received many positive comments on the wall and we hope it brings inspiration and encouragement to those who come down these halls," shares Claudette McGuire, BUH Foundation Executive Director.
"The Art of Courage" wall is open to sponsorship each year and the 2017 installation was sponsored by BATC. Through the Community Development Corporation, BATC has been a dedicated supporter of healthcare within The Battlefords and has made possible the purchase of new, up-to-date medical equipment that would not be available without their commitment to improving the services at BUH for members of their communities.
"The Art of Courage" wall is located on Third Floor at BUH near the Dialysis Unit, Chemotherapy Department, Cardiac Stress Testing Room and the Pre-Operative Department. Patients attending to these areas may be facing fear and anxiety during their appointments and it was the goal of BUH Foundation to create a wall that may offer courage and hope during this time. Representatives feel this has been successful through the powerful message the imagery conveys and the beauty added to what was otherwise a blank wall.
"The Art of Courage" wall will have a new theme and sponsorship opportunity every year. The 2018 sponsorship has already been committed to with details to be released at a later date.
For further information on "The Art of Courage" wall go to the "Art of Courage" page.