Media Release
RE/MAX of The Battlefords Donates to Help Children
October 26th 2015
North Battleford, SK – Battlefords Union Hospital (BUH) Foundation is pleased to announce the support of RE/MAX of The Battlefords as they assist in enriching patient care for pediatric patients at BUH. For the last 23 years RE/MAX® has partnered with the Children's Miracle Network. As a part of this, RE/MAX of The Battlefords has made a commitment to BUH Foundation. For the last seventeen years RE/MAX of The Battlefords has contributed over $17,000.00 to help children and their families in The Battlefords community.
"This year's cheque for $1,000.00 represents every property purchased or sold through our office from April 1 to June 30, 2014 our sales associates pledged a donation toward Children's Miracle Network. They also send $510.00 to Children's Hospital Foundation of Saskatchewan," says Brian Maunula, owner of RE/MAX of The Battlefords.
"We are so grateful to RE/MAX® and their agents who not only volunteer their time by selling tickets for our $100,000.00 Lottery but also attend Foundation events," shares Claudette McGuire, BUH Foundation Executive Director.
Past purchases that RE/MAX of The Battlefords has supported for pediatric care include such pieces as a vital signs monitor to measure blood pressure and heart rate, a syringe pump to accurately distribute required fluid, a transilluminator to assist in infant intravenous and sleep chairs to make family members more comfortable during their stay. BUH has treated patients in the past year, including newborn babies.
If you would like to donate to pediatrics at BUH or would like more information on BUH Foundation and the work they do, please contact BUH Foundation office at 306-446-6652.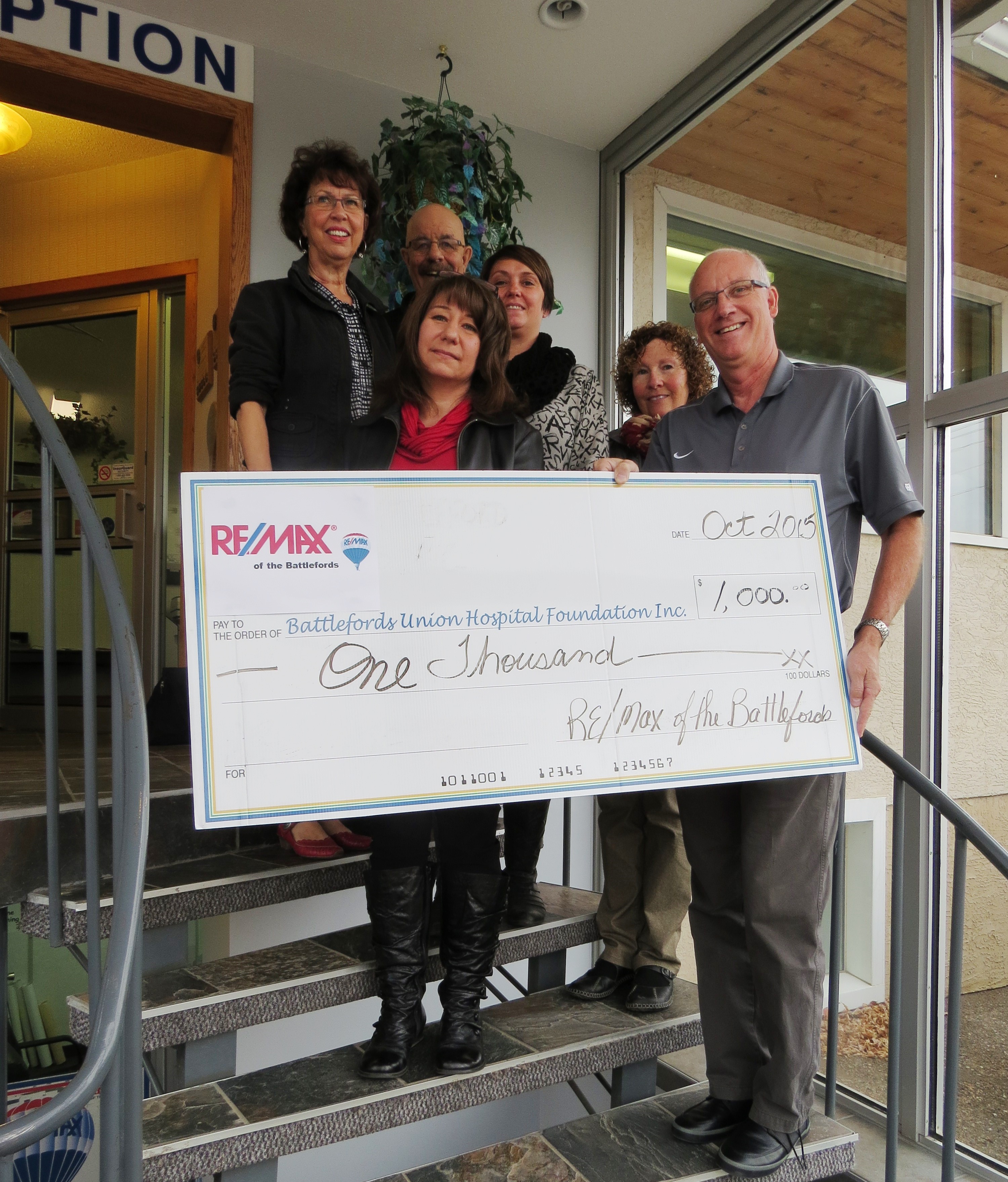 (l-r) Pat Zaychkowsky, BUH Foundation Special Events Assistant; Al White, Re/Max of The Battlefords Agent; Kayla Peterson, Re/Max of The Battlefords Agent; Norma Folkersen, BUH Foundation Special Events Assistant; Joanne Iverson, Re/Max of The Battlefords Agent; Brian Maunula, Re/Max of The Battlefords Owner / Agent