Media Release
North Battleford Lions Club Donates to BUH Foundation
July 10th 2015
North Battleford, SK – Battlefords Union Hospital (BUH) Foundation was pleased to accept a donation of $10,000 from North Battleford Lions Club Inc. on Tuesday, July 7th. These funds will be directed to where most needed and help to enrich healthcare within The Batlefords. Including this donation, North Battleford Lions Club has contributed $48,000 to enrich healthcare at BUH since 1994. They have supported areas such as the mammography department, cataract equipment, palliative care, and the OR Dollar for Dollar campaign.
Roger Anderson, BUH Foundation Chairperson stated, "We are very grateful to North Battleford Lions Club for their generous gift. This is a wonderful donation that we know will impact our community. Our Board reconvenes after the summer break; the decision will be made at that time on where this generous donation will be most beneficial."
The funds donated to BUH Foundation were raised through the annual North Battleford Lions Club Guns & Collectibles show. This show happens every year in September at the Agriplex-Fairgrounds and brings in approximately 75 vendors and 200 tables, with vendors coming from as far as B.C. and Manitoba. While it was unheard of for The Battlefords when it started, it has become quite profitable for the Lions Club and allows them to give back and help where needed. This year's show will be held Saturday & Sunday, September 26th & 27th.
"We, as an organization, are proud to be able to donate to BUH Foundation and benefit the hospital. We enjoy serving our community and holding events that can help improve the lives of others. This is a thank you to everyone who supports us. BUH does a lot of great work and we are glad to be a part of it," comments Pat Folan, North Battleford Lions Club member.
BUH Foundation accepts donations from businesses, individuals and service clubs who are able to give back and benefit their community in this manner. Funds are used to purchase new, up-to-date medical equipment and support continued staff education at BUH or Battlefords Region Home Care (BRHC). This support has allowed BUH to obtain resources and access to equipment that some hospitals of its size do not have. This in turn means more doctors desire to practice within The Battlefords and expanded services are able to be offered closer to home. The focus is always on putting the patient, our family and friends, first and ensuring safe, quality healthcare is available where we live.
If you would like further information on how you can support BUH Foundation and enrich patient care in your community please visit www.buhfoundation.com or call 306-446-6652.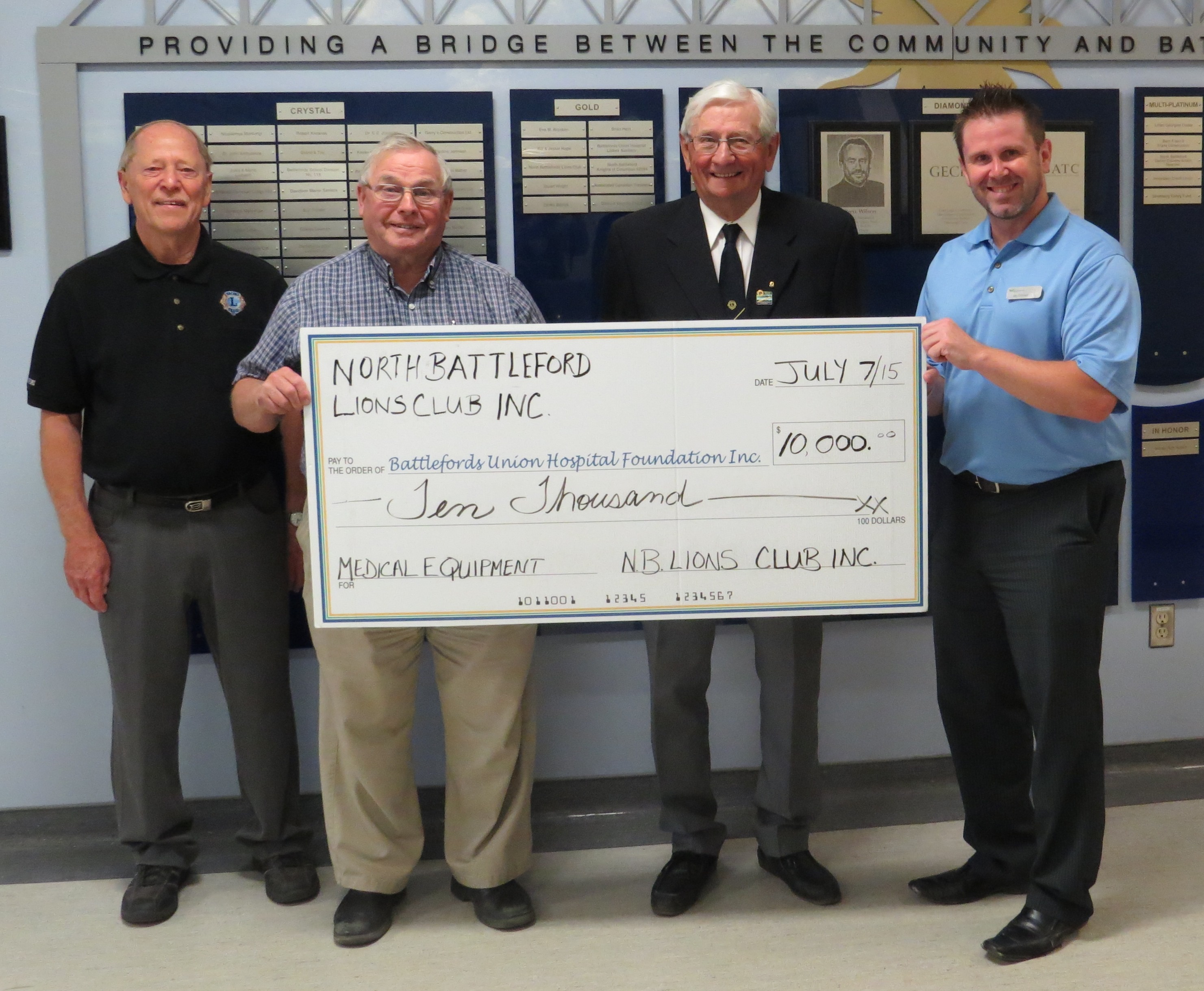 (l-r) Harold Bishop, NB Lions Club Secretary; Cecil Russell, NB Lions Club President; Pat Folan, NB Lions Club member, presenting to Jay Crockett, BUH Foundation Board of Directors Vice-Chairperson.