Media Release
BATC CDC Enriches Healthcare in The Battlefords
June 4th 2015
North Battleford, SK – Battlefords Union Hospital (BUH) Foundation is pleased to announce funding of $125,339.59 from BATC Community Development Corporation (BATC CDC) to enrich healthcare in The Battlefords. The funds will be divided between the Education Lab and the Laboratory at BUH to purchase a SimBaby training package and urine analyzer respectively. These pieces will greatly enrich the services provided to members of the community and surrounding area and continue to ensure safe, quality care is provided at BUH.
"We are always grateful for the support received from BATC CDC. Their generous contributions have purchased many pieces of equipment that have touched lives within our community. Some of these pieces of equipment would not be available at BUH without the support of BATC CDC. We are truly grateful to them for recognizing the value enriched healthcare has to our family and friends and we thank them for their support," shares Brenda Sparrow, BUH Foundation Board of Directors Chairperson.
The SimBaby training package includes a mannequin simulating a baby under 12 months and the medical equipment to practice real life scenarios on it. It joins the adult and junior simulators already available in BUH`s Education Lab and will allow staff to practice and perfect their skills in a risk-free environment. The Education Lab provides training from routine care to critical emergencies for the first and second year students of family medicine at BUH, as well as doctors and nursing staff in the Emergency Department, Intensive Care Unit, and Obstetrics.
The new urine analyzer replaces the current system at BUH Laboratory that has reached its end of life and is one of the first of its kind in Canada. The Laboratory at BUH provides services to all of The Battlefords & Area, including Saskatchewan Hospital, long-term care facilities, clinics, Home Care, and Primary Lab Services Centre. It is also the backup regionally should any of their instrumentation go down. At present, BUH Laboratory performs approximately 1,050 urines a month by a manual dip test. Urinalysis is one of the most common tests and medical diagnosis and the new urine analyzer will allow for a quicker turnaround time and faster results, reduce the risk of contamination or error, and free up staff hours to perform and complete other laboratory tests
"On behalf of the BUH staff and physicians, I would like to extend my thanks and appreciation to BATC CDC for the continued support to our facility with respect to equipment such as the urine analyzer and the training equipment that we are so very fortunate to have. These contributions continue to provide opportunities to enhance the care that we provide to the members of our community and surrounding area and for this we are so grateful," comments Shelly Horsman, BUH Director of Acute Care Services.
BATC CDC has supported BUH Foundation since 2007. They have provided over $730,000 in support of healthcare and have assisted in the purchase of infant warmers for Women`s Health & Birthing Centre (WHBC), pediatric cribs for WHBC and Surgery, a transport ventilator for the Emergency Department, and a bronchoscope for the Intensive Care Unit, among others. BATC CDC is a proud sponsor and participant of BUH Foundation`s Festival of Trees.
"On behalf of the BATC CDC Board of Directors, I am pleased that we are able to financially support BUH Foundation in their purchase of new equipment for Battlefords Union Hospital. The purchase of new equipment for the hospital means optimal care for the patients, who are our family, friends, colleagues, and community members." states Neil Sasakamoose, Chair of the BATC CDC Board of Directors.
If you would like further information on how you can support BUH Foundation and enrich patient care in your community please visit www.buhfoundation.com or call 306-446-6652.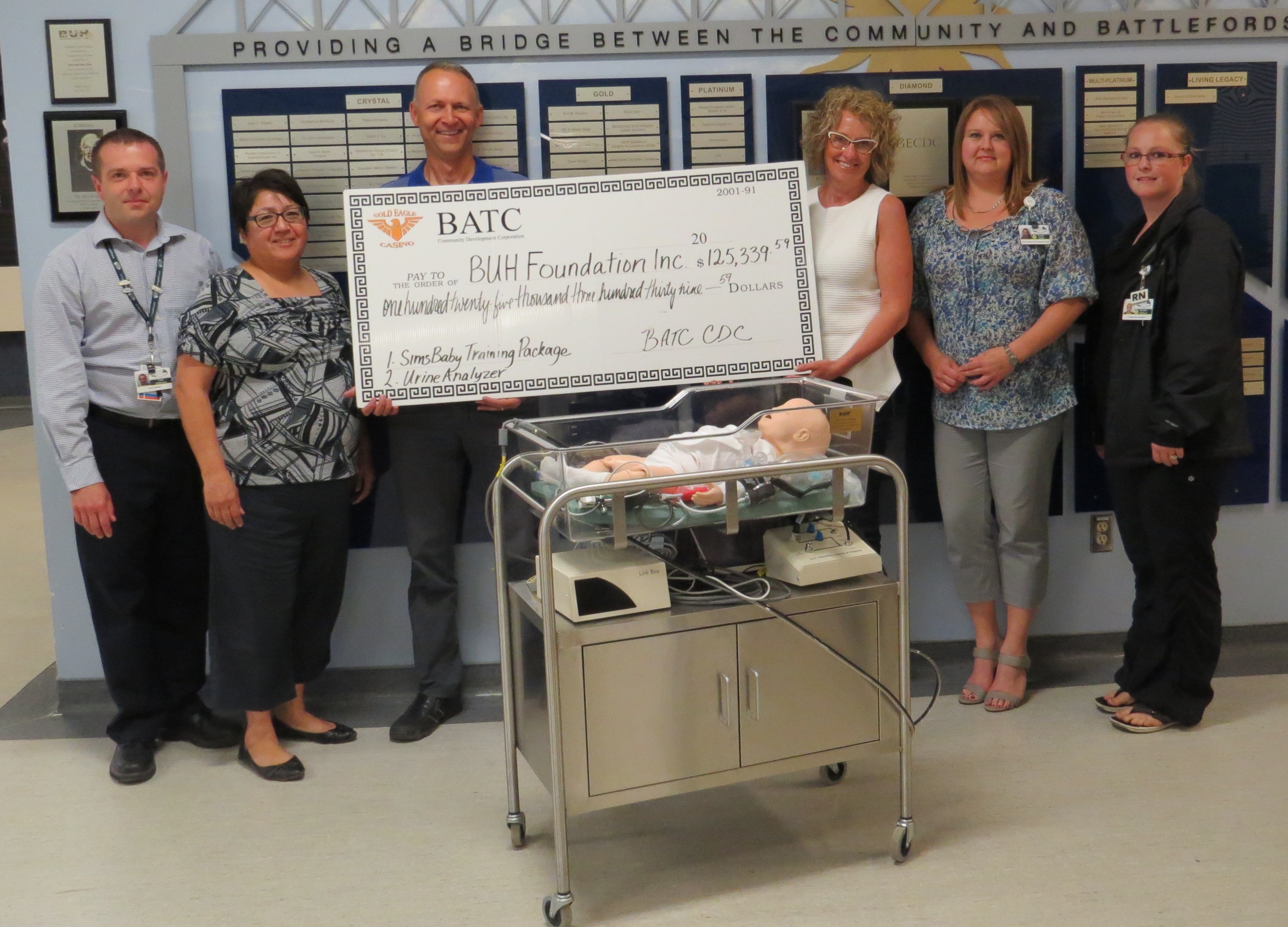 (l-r) Chris Etcheverry, BUH Nurse Manager Emergency / Ambulatory Care; Vivian Whitecalf, BATC CDC General Manager; Don Buglas, BATC CDC Board of Director; Brenda Sparrow, BUHF Board of Directors Chairperson; Pam Nyholt, BUH Laboratory Supervisor; Raeanne McIntyre, BUH Clinical Nurse Educator