Media Release
BUH Employees "Fund the Foundation"
March 11th 2015
BUH Foundation is grateful for the generosity and support of various departments within BUH as they have been hosting challenges to "Fund the Foundation." Thus far, $3,323 has been raised and more is coming in as departments continue to challenge each other.
"We are so excited and pleased to see the staff working together, challenging one another, and benefitting the hospital in this manner. They each give so much day to day as they provide great care, now we can provide them with additional support, in the form of equipment and continued education, as they care for our loved ones," shares Claudette McGuire, BUH Foundation Executive Director.
Admitting, Health Information Services, and the Business Office are currently hosting a 50/50 Raffle and a silent auction of beautiful, hand-knit sweaters to "Fund the Foundation." Women's Health & Birthing Centre are set to go next and were excitedly preparing some fun Easter Baskets to be raffled off. With an adult, toddler, and baby basket there will be something to suit everyone.
The already completed challenges by Medical Imaging; Laboratory Services; Housekeeping, Laundry and Materials Management; and Out Patient Day Surgery, raised funds through a bake sale, a "Pie in the Face" event, a raffle for concert tickets, and a raffle for a Christmas Gift Card Wreath respectively.
A big thank you to all of the staff who have organized and supported these events. You have made a difference in your hospital for healthcare and we commend you for your work.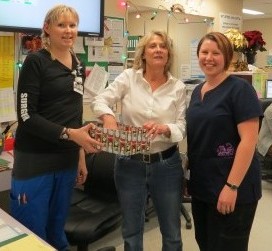 (2nd West Draw for Christmas Gift Card Wreath)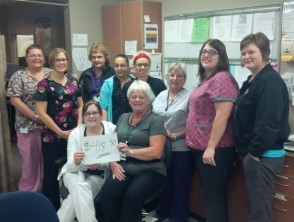 (Medical Imaging Team & Bake Sale Proceeds)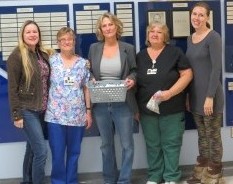 (Housekeeping, Laundry & Materials Management raffle draw)