Media Release
North Battleford Agencies Gives $5000 to BUH Foundation's P.A.R.T.Y. Program
May 28th 2014
North Battleford Agencies Gives $5,000 to
BUH Foundation's P.A.R.T.Y. Program Fundraiser
North Battleford, SK – "We are pleased to announce that North Battleford Agencies has been recognized for their remarkable business performance this year. As one of the top ten eligible brokers they will receive $5,000 to give to their charity of choice," explained Donna Lehmann, Marketing Representative of Saskatchewan Mutual Insurance Company (SMI). She then added "These funds will go to Battlefords Union Hospital Foundation and we are pleased to share our success with them. Over the past year Bernie Nolin and his team have exceeded normal business expectations of a loss ratio to below 15%, which is quite commendable and as a responsible corporate citizen we understand the importance of giving back to the communities in which we do business." Since 2008, when SMI initiated the Centennial Donation Program, $250,000 has been contributed into those communities.
Bernie Nolin, North Battleford Agencies Insurance Manager added, "I am proud of my team and our accomplishment in meeting the eligibility requirements for the Centennial Donation Program and we were especially pleased to choose and assist Battlefords Union Hospital (BUH) Foundation in their fundraising efforts to purchase SIDNE®. It appealed to us to support a program that provides a hands-on, engaging lesson about the dangers and consequences of impaired or distracted driving for young adults."
This donation will support the purchase of SIDNE®, which is a battery operated go-kart, and will provide a hands-on, engaging lesson about the misuse and abuse of alcohol and other drugs and the dangers of distracted driving through a visual, hands-on experience with the P.A.R.T.Y. Program. The P.A.R.T.Y. Program has been operating at BUH since 2009 and has had over 350 students take part, from The Battlefords and surrounding communities. The Program is run in collaboration with the volunteer efforts of BUH, the RCMP and Emergency Medical Services (EMS), and the support of North Battleford Fire Department to promote injury prevention and enable youth to recognize risk, make informed choices, and identify potential consequences about activities and behaviours while driving. The youth are brought to the hospital to see firsthand what happens in emergency and trauma situations with presentations from the RCMP on what happens when they are arrested, EMS showing on the scene accident care, and the Emergency Department demonstrating trauma care provided.
Walter Houk, owner and manager of Bridges Chevrolet Buick GMC of North Battleford stated, "We believe this is an important initiative and will help prevent our youth, both in urban and rural communities, from making risky choices that endanger themselves and others. We are pleased to be part of the SIDNE® fundraising campaign by matching every dollar raised, up to $12,000." Today, $10,000 matching dollars have been raised towards the required $30,000 to purchase SIDNE®.
For further information on the SIDNE® or to learn more on how you can be a part of the "Prevents Makes Cents" matching program for SIDNE®, please visit www.buhfoundation.com or call 306-446-6652.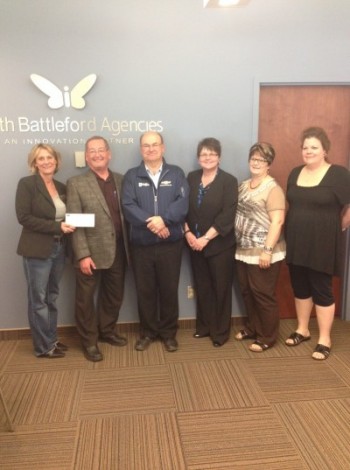 From left to right: Claudette McGuire, Executive Director BUH Foundation; Bernie Nolin, Insurance Manager NB Agencies; Walter Houk, Owner & Manager Bridges Chevrolet Buick GMC, NB; Donna Lehmann, Marketing Rep for SMI, Gerry Caron NB Agencies Office Manager and Erin Soule, NB Agencies Account Manager.
MEDIA:
For more information, contact:
Mike Van Stone Health Educator/ACP/PARTY Program Coordinator
Ph. 306-481-3544
mike.vanstone@pnrha.ca
Claudette McGuire
BUH Foundation Executive Director
Ph. 306-446-6652
Bernie Nolin, Insurance Manager
North Battleford Agencies
Ph. 306-445-9418
Walter Houk, Owner and Manager
Bridges Chevrolet Buick GMC Ltd
Ph. 306-445-3300
About Saskatchewan Mutual Insurance (SMI) Company:
SMI was formed by a group of pioneer farmers in 1908 due to a mutual need of assisting each other. SMI has prospered for almost 100 years and today is a federally licensed insurer operating successfully in Alberta, Saskatchewan and Manitoba with annual written premiums of over $55,000,000. SMI serves its policyholders through the independent brokerage system, with their Head Office located in Saskatoon. For more information about SMI visit www.saskmutual.com.
About Bridges Chevrolet Buick GMC Ltd.:
Bridges Chevrolet Buick GMC Ltd. is a premier GM vehicle dealer in North Battleford. Operating since 1976 Bridges Chevrolet Buick GMC Ltd. offers a selection of new and used Chevrolet, Buick and GMC cars, trucks, and SUVs to The Battlefords and surrounding area. They are proud supporters of their community, giving back in a variety of ways to various organizations including Battlefords North Stars, United Way, Dekker Centre for the Performing Arts, and BUH Foundation. For more information about Bridges Chevrolet Buick GMC Ltd. visit www.bridgesgm.com.
About Battlefords Union Hospital (BUH) Foundation:
Battlefords Union Hospital (BUH) Foundation is dedicated to enriching patient care through responsible stewardship of community contributions and volunteer resources. BUH Foundation, operating independently of other healthcare organizations, is the main fundraising agency of BUH and provides funding for the purchase of capital/non-capital equipment and staff education. For more about BUH Foundation visit www.buhfoundation.com.