Media Release
BATC CDC Gives to Infants at BUH
April 10th 2014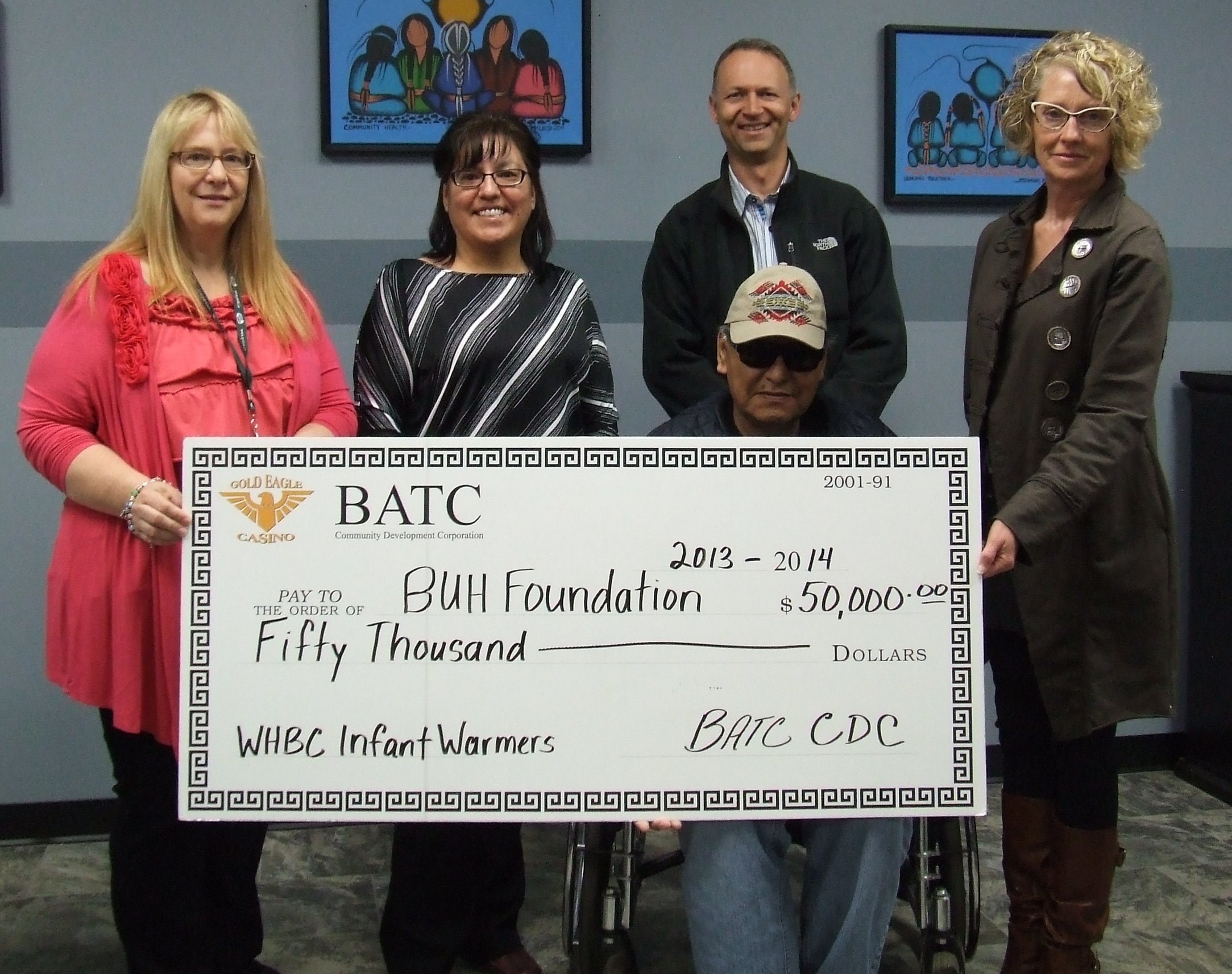 (l-r) Pamela Plummer, Nurse Manager WHBC; Chief Lori Whitecalf, Sweetgrass First Nation; Chief Ben Weenie of Stoney Knoll First Nation; Councillor Don Buglas, City of NB; Brenda Sparrow, BUHF Chairperson.
All BATC CDC reps are Directors on BATC CDC Board
"BATC CDC Gives to Infants at BUH"
North Battleford, SK – Battlefords Union Hospital (BUH) Foundation has received $50,000 from BATC Community Development Corporation (BATC CDC) to assist in the purchase of three new Infant Warmers for Women's Health & Birthing Centre (WHBC). Infant Warmers help maintain a baby's temperature post-delivery, important as newborns' temperatures drop quickly after birth and they need help keeping warm. BATC CDC recognizes the importance of providing a healthy start to the young lives in our community and has been supporting BUH Foundation since 2007.
"We extend our heartfelt gratitude to BATC CDC for their support and giving back to enrich healthcare in The Battlefords. There is always a need and many times BATC CDC has been able to fill that need and make possible the purchase of new equipment to enrich patient care for the members of our community. We are pleased to partner with BATC CDC and thank them for their generosity," shares Brenda Sparrow, BUH Foundation Volunteer Chairperson.
The three new Infant Warmers being purchased by BUH Foundation will fulfill the need of BUH to have one Infant Warmer in each of the four birthing rooms. The new units comply with the new Neonatal Resuscitation Program regulations, as well as best practice within the WHBC. They are equipped with the latest in technology and medical standards with integrated resuscitation equipment, always available with minimal setup for high risk deliveries, and an integrated SpO2 system to monitor oxygen saturation and heart rate without additional equipment. The focus of the equipment is to provide quality care and a warm environment necessary for babies to thrive and have a healthy start in life.
"We are so pleased to receive the new Infant Warmers for WHBC. We have around 600 babies born every year at BUH and have seen an increase in medium risk births. Up-to-date medical equipment is important to care for these young lives and the new Infant Warmers will allow us to continue to provide this high standard of care required and expected. Thank you to BATC CDC for supporting this purchase and helping to make it happen," says Pamela Plummer, Nurse Manager WHBC.
This is not the first time BATC CDC has supported the purchase of new equipment to provide safe, quality care to newborns at BUH. In 2012 they allowed for the purchase of two BiliSoft LED Phototherapy Systems, which allows caregivers to wrap a baby in a blanket and hold them during jaundice treatment, and an Infant Incubator that creates a healing environment and promotes growth and stability for newborns. Recent funding has also supported the purchase of pediatric cribs for WHBC and Surgery, an endoscopic tower for Surgery, a transport ventilator for the Emergency Department, and a bronchoscope for the Intensive Care Unit. BATC CDC is a proud sponsor and participant of BUH Foundation's Festival of Trees and have given over $600,000 to BUH Foundation since their inception in 2007.
"BATC CDC is always pleased to provide funding under the Health Initiative to BUH Foundation. The Battlefords Union Hospital provides services to all the surrounding communities and we want to ensure that everyone receives the best medical care available," states Chief Lori Whitecalf, BATC CDC Board Member and Chief of Sweetgrass First Nation.
If you would like further information on how you can support BUH Foundation and enrich patient care in your community please visit www.buhfoundation.com or call 306-446-6652.
-30-
MEDIA:
For more information, contact:
Vivian Whitecalf
BATC CDC General Manager
Ph. 306-446-1400
vivian.whitecalf@batc.ca
Claudette McGuire
BUH Foundation Executive Director
Ph. 306-446-6652
claudette.mcguire@pnrha.ca
About BATC Community Development Corporation:
BATC Community Development Corporation (CDC) was created in 2007 and includes membership of Ahtahkakoop, Moosomin, Red Pheasant, Saulteaux, Sweetgrass, & Young Chippewayan First Nations. BATC CDC is responsible for administering and managing 25% of the Gold Eagle Casino profits through a fair and equitable process that is accountable and transparent to the members, through full disclosure of grants. These grants will support BATC CDC's vision of the development of healthy communities. For more about BATC CDC visit www.batc.ca.
About Battlefords Union Hospital Foundation:
Battlefords Union Hospital (BUH) Foundation is dedicated to enriching patient care at BUH through responsible stewardship of community contributions and volunteer resources. BUH Foundation, operating independently of other healthcare organizations, is the main fundraising agency of BUH and provides funding for the purchase of capital/non-capital equipment and staff education. Through a bequest from Victor Pearsall in 2011, BUH Foundation began the Victor Pearsall Home Care Fund allowing funding for Battlefords Region Home Care. For more information about BUH Foundation visit www.buhfoundation.com.