Media Release
"Prevents Makes Cents" Matching Program for SIDNE
March 17th 2014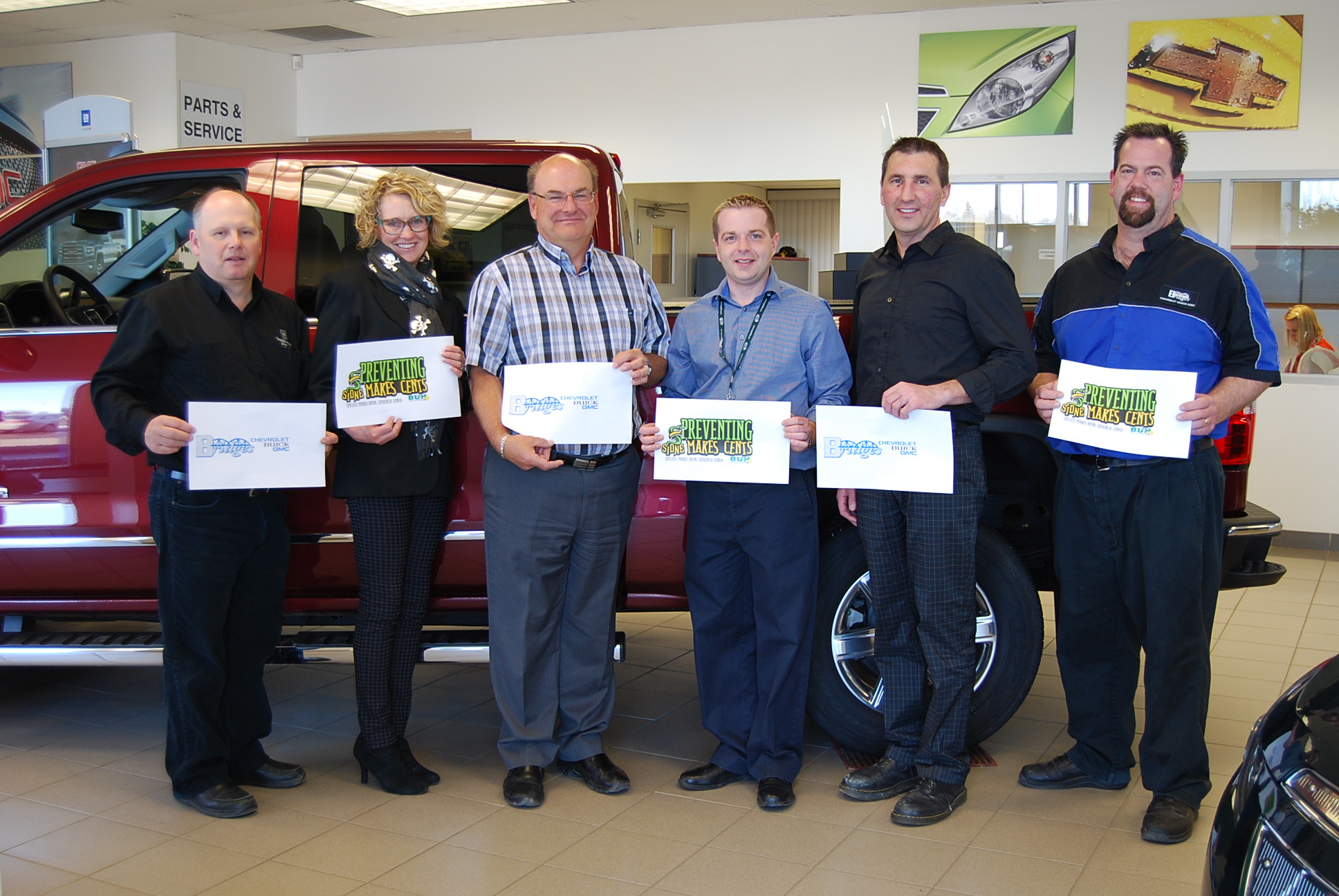 (left - right) Todd Wakeline, Parts Manager; Brenda Sparrow, Chair – BUH Foundation's Board of Directors; Walter Houk, Owner and Manager; Chris Etcheverry, Nurse Manager BUH's Emergency Department; Dwayne Lafreniere, Sales Manager; Grant Heintz, Service Manager Bridges Chevrolet Buick GMC Ltd at the kick-off of the "Prevents Makes Sense" fundraising campaign.
"Prevents Makes Cents" Matching Program for SIDNE®"
North Battleford, SK – Battlefords Union Hospital (BUH) Foundation is pleased to announce that Bridges Chevrolet Buick GMC Ltd of North Battleford has offered their assistance in raising funds to purchase SIDNE®. "We are very proud of the work BUH Foundation accomplishes to enrich the care provided to our community, and we are pleased to announce that Bridges Chevrolet Buick GMC of North Battleford will match every dollar raised in the fund raising campaign for SIDNE®, up to $12,000. We believe that this is an important initiative and will help prevent our youth, both in urban and rural communities, from making risky choices that endanger themselves and others," stated owner and manager Walter Houk.
"We are grateful to Bridges Chevrolet Buick GMC Ltd for recognizing the importance of the SIDNE® campaign and supporting the services provided through BUH's Emergency Department," shares Brenda Sparrow, Chairperson of BUH Foundation Board of Directors, adding "A total of $24,000 would get almost 85% of the funding we need and we are grateful for their commitment to our youth".
With a campaign goal of $30,000, BUH Foundation is raising awareness and funds for SIDNE® and the service the P.A.R.T.Y. Program provides to the youth of our communities in Prairie North Health Region (PNHR). To date BUH Foundation has accepted close to $1000 in donations, and has made application on possible funds through various grant programs.
For further information on the SIDNE® or to learn more on how you can be a part of the "Prevents Makes Cents" matching program for SIDNE®, please visit www.buhfoundation.com or call 306-446-6652.
SIDNE® is a battery operated go-kart and will provide a hands-on, engaging lesson about the misuse and abuse of alcohol and other drugs and the dangers of distracted driving through a visual, hands-on experience with the P.A.R.T.Y. Program. The P.A.R.T.Y. Program has been operating at BUH since 2009 and has had over 350 students take part, from The Battlefords and surrounding communities. The Program is run in collaboration with the volunteer efforts of BUH, the RCMP and Emergency Medical Services (EMS), and the support of North Battleford Fire Department to promote injury prevention and enable youth to recognize risk, make informed choices, and identify potential consequences about activities and behaviours while driving. The youth are brought to the hospital to see firsthand what happens in emergency and trauma situations with presentations from the RCMP on what happens when they are arrested, EMS showing on the scene accident care, and the ED demonstrating trauma care provided.
(30)

MEDIA:
For more information, contact:
Mike Van Stone
Health Educator/ACP/PARTY Program Coordinator
Ph. 306-481-3544
mike.vanstone@pnrha.ca
Claudette McGuire
BUH Foundation Executive Director
Ph. 306-446-6652
About Bridges Chevrolet Buick GMC Ltd.:
Bridges Chevrolet Buick GMC Ltd. is a premier GM vehicle dealer in North Battleford. Operating since 1976 Bridges Chevrolet Buick GMC Ltd. offers a selection of new and used Chevrolet, Buick and GMC cars, trucks, and SUVs to The Battlefords and surrounding area. They are proud supporters of their community, giving back in a variety of ways to various organizations including Battlefords North Stars, United Way, Dekker Centre for the Performing Arts, and BUH Foundation. For more information about Bridges Chevrolet Buick GMC Ltd. visit www.bridgesgm.com.