Media Release
RE/MAX of the Battlefords Helps Children
June 7th 2013
North Battleford, SK – Battlefords Union Hospital (BUH) Foundation is pleased to announce the support of RE/MAX of the Battlefords as they assist in enriching patient care for pediatric patients at BUH. For the last 21 years RE/MAX®, as the number one real estate company in North America, has been proud to partner with the Children's Miracle Network and support children and healthcare. As a part of this, RE/MAX of the Battlefords has been partnering with BUH Foundation for the last fifteen years and has contributed $15,965.37 to help children and their families in The Battlefords community.
"We are so grateful to RE/MAX® and their agents who not only volunteer their time and attend Foundation events, but choose to donate to pediatrics at BUH. We appreciate their support of this department as it enables us to provide added comfort and care to young patients and their families during, what could be, a stressful time." shares Claudette McGuire, BUH Foundation Executive Director.
Past purchases that RE/MAX of the Battlefords has supported for pediatrics include such pieces as a vital signs monitor to measure blood pressure and heart rate, a syringe pump to accurately distribute required fluid, a transilluminator to assist in infant IVs, and sleep chairs to make family members more comfortable during their stay. Pediatric admissions at BUH have risen since 2010, when a pediatrician was made available in The Battlefords. Prior to his arrival pediatric patients were required to go to a bigger centre for further treatment and care. Now there is an average of two - three pediatric patients at BUH at a time and more serious cases are able to be seen close to home.
"We at RE/MAX® are proud to support BUH Foundation and the work they do in our community to better healthcare. Each year RE/MAX agents donate a percentage of all sales that take place during the months of April, May, and June. It is because of the generosity of our sales agents that we are able to make this contribution every year and I thank them for giving back and choosing to make a difference." said Brian Maunula, Owner of RE/MAX of the Battlefords.
This year's cheque was presented during the Dinner on the Lake, a live auction package purchased by RE/MAX of the Battlefords at the 2012 Festival of Trees and attended by agents and their spouses. It was a wonderful evening of a gourmet meal, good entertainment, and fellowship with friends in support of healthcare. It is yet another way RE/MAX of the Battlefords gives back to their community.
If you would like to donate to pediatrics at BUH or would like more information on BUH Foundation and the work they do, please contact BUH Foundation office, 306-446-6652.
-30-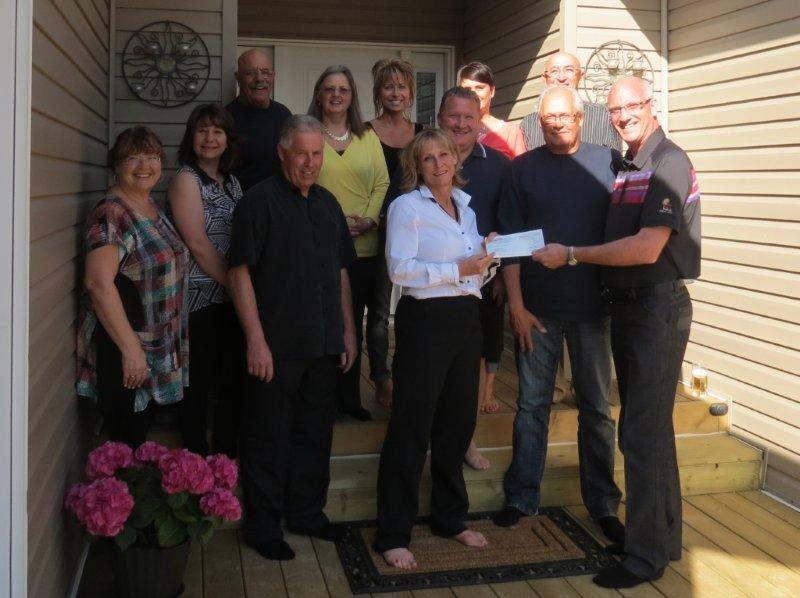 (Claudette McGuire, BUHF Executive Director accepts cheque from Brian Maunula, Owner RE/MAX of the Battlefords with Mike Zaychkowsky, BUHF Board of Director and RE/MAX of the Battlefords agents looking on)