Media Release
BATC CDC Provides New Equipment at BUH
April 24th 2013
"BATC CDC Provides New Equipment at BUH"
North Battleford, SK – Battlefords Union Hospital (BUH) Foundation is pleased to announce the continued support of BATC Community Development Corporation (BATC CDC) as they contribute $50,000 to both the Intensive Care Unit (ICU) and Emergency Department (ED) at BUH. This funding will allow the purchase of a new bronchoscope to be used in ICU and replace the current ventilator in the ED. BATC CDC has been supporting BUH Foundation since their inception in 2007 and BUH Foundation is grateful for their support.
"We are very pleased to be supporting the purchase of the bronchoscope and ventilator and grateful for BATC CDC for making this possible. We recognize the many organizations BATC CDC gives back to within our community and thank them for choosing BUH. The equipment they fund truly makes a difference in our hospital," shares Jerry Wintonyk, BUH Foundation Volunteer Chair.
BATC CDC has previously helped to fund equipment such as a Tissue Processor for the Laboratory, monitoring equipment for the Intensive Care Unit, an Endoscopic Tower for the Surgical department, and a BiliSoft Phototherapy System and an Infant Incubator for Women's Health & Birthing Centre. BATC CDC has also been a proud sponsor and participant of BUH Foundation's Festival of Trees. With over $520,000 in funding, they have helped to purchase many vital pieces of equipment to enrich patient care at BUH. It is a small example of the community support BATC CDC provides.
"We are very pleased to have these new pieces of equipment available at BUH. Both the bronchoscope and ventilator will provide an enriched level of patient care and allow our medical teams to treat patients quickly, safely, and effectively. Thank you to BATC CDC for supporting these purchases," expresses Shelly Horsman, Director of Acute Care Services at BUH.
Through the purchase of the new bronchoscope and replacement ventilator, BATC CDC will help to ensure that the safest and best possible care is available at BUH. The bronchoscope is used to see inside a patient's airway and lungs and will be used for investigative purposes and in the removal of foreign bodies. As BUH did not previously have a bronchoscope patients would have to be sent to a larger centre for this level of care. The ventilator is a replacement item for ED, but will now have the capability to care for children as well as adults.
If you would like further information on how you too can support BUH Foundation and patient care in your community please visit www.buhfoundation.com or call 306-446-6652.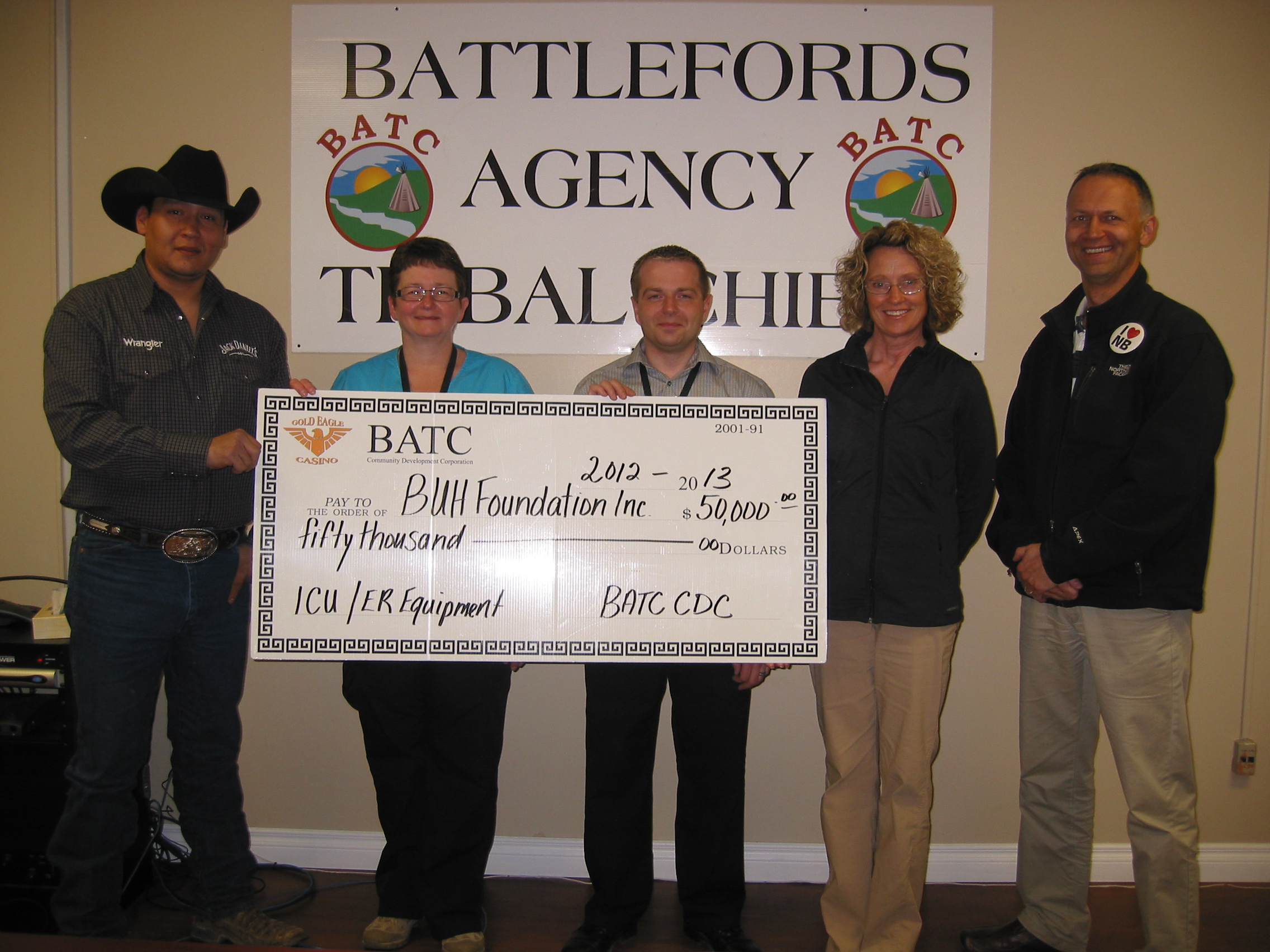 BATC CDC presents $50,000 to BUH Foundation for new equipment for ICU & ER. In the presentation is (l-r) Chief Stewart Baptiste, BATC CDC Board Member and Chief of Red Pheasant Cree Nation; Pat McWatters, BUH Nurse Manager, Intensive Care Unit / Dialysis / Chemotherapy; Chris Etcheverry, BUH Nurse Manager, Emergency / Ambulatory Care Clinic; Brenda Sparrow, BUH Foundation Volunteer Vice-Chairperson; Don Buglas, BATC Board Member, City of North Battleford