Media Release
Claudette Bidart Fundraiser
February 6th 2013
Cheque for $10,000 presented to Battlefords Union Hospital Foundation
A cheque for at least $10,000 was presented Tuesday to the Battlefords Union Hospital Foundation (BUHF), and through it to palliative care and home care services in the name of the Claudette Bidart Fund. The idea is for the fund to continue to grow through the years.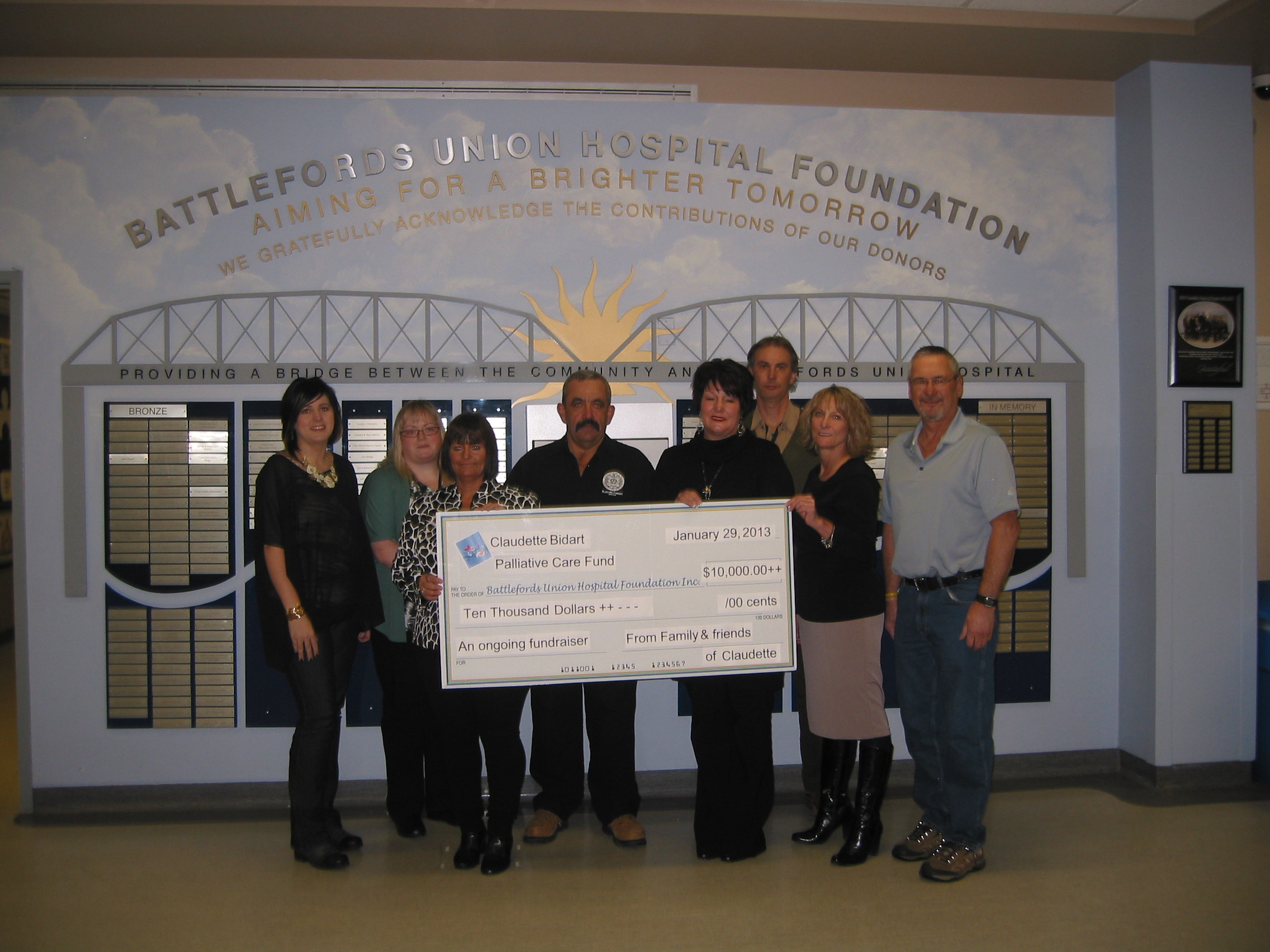 On hand for cheque presentation were Krisy Wandler, Shannon Heintz(Nurse Manager for acute medicine at BUH), Denise Baker(SaskEnergy), Morris Bidart (Claudette Bidart's husband), Scott Parker of BUH Palliative Care,Terri Boechler, Claudette McGuire of BUH Foundation and Jerry Wintonyk Board of Direct of BUH Foundation.
The fundraising in memory of Claudette Bidart, a local resident, fought an 18-month battle with cancer and passed away Oct. 22. Her husband Morris and close friend, Terri Boechler, wanted to do something in her memory. So in October, Boechler began sending out emails to friends and family, and it just snowballed from there.
Denise Baker of SaskEnergy, where Boechler worked, set up several fundraisers, including 50/50 draws, dress-down days and raffles.
Another good friend, Brent Rackel of Northgate Industries in Edmonton, a neighbour at the lake, also Hair stylist Krisy Wandler donated commissions from all her sales.
BUHF Executive Director Claudette McGuire says money from the fund will be used to purchase equipment to make things more comfortable for palliative care and home care patients as well as their families. She said examples include mattresses to make patients as comfortable as possible and specialized IVs (intravenous equipment).
The hope is that the fundraising efforts will continue and the total will continue to grow.