Media Release
BATC CDC Helps Provide a 'Healthy Start in Life' at BUH
July 18th 2012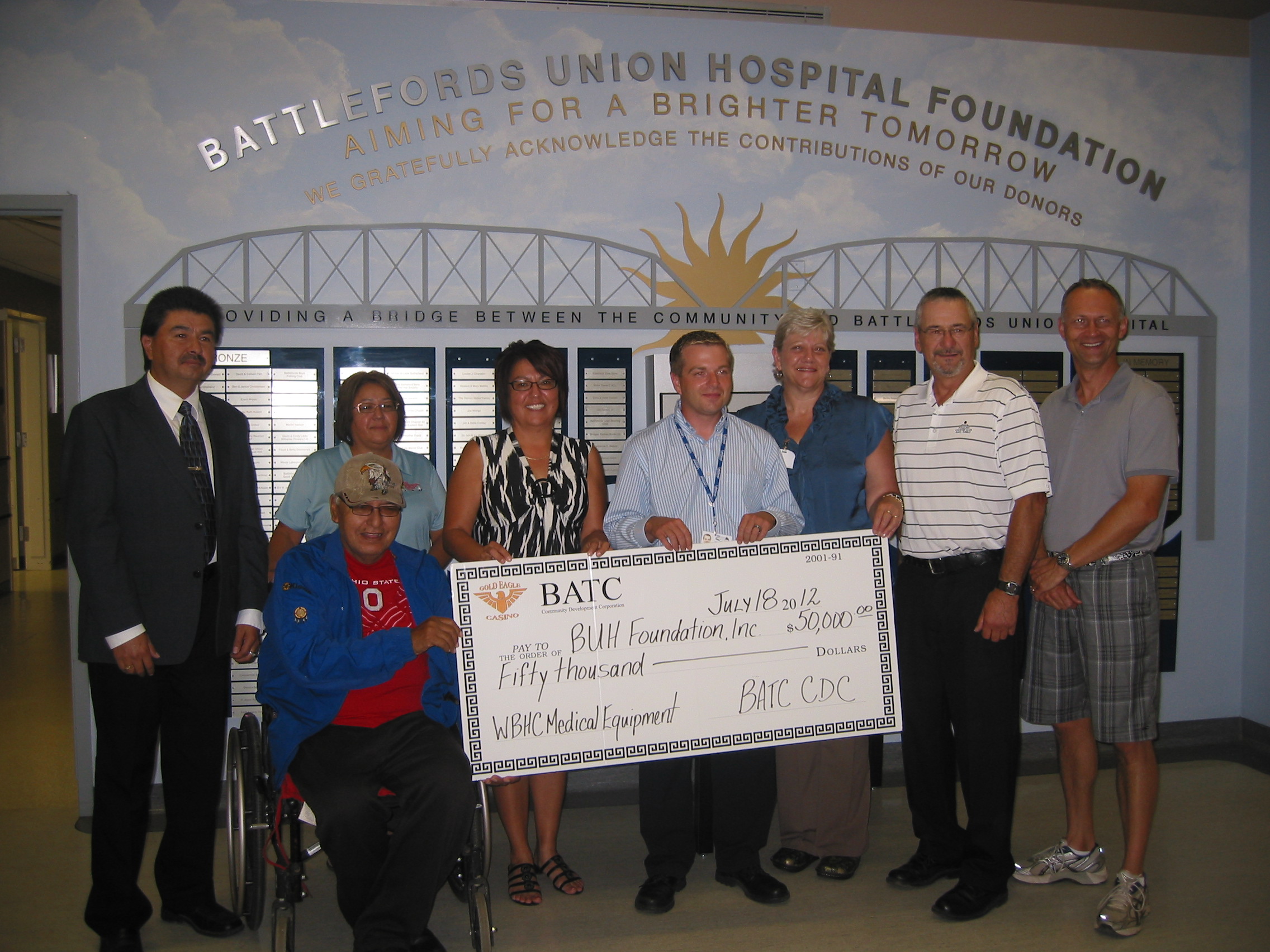 (l - r) Kelly Atcheynum General Manager of Gold Eagle Casino,Chief Ben Weenie BATC CDC Board Member and Chief of Young Chippewayan First Nation, Vivian Whitecalf Acting General Manager,BATC CDC, Chief Lori Whitecalf BATC CDC Board Member and Chief of Sweetgrass First Nation, Chris Etcheverry Acting Nursing Unit Manager,2nd East, Shelly Horsman Director, Acute Care; Jerry Wintonyk, BUH Foundaton Volunteer Chair, and Don Buglas Board Member of BATC, City of North Battleford.
News Release
"BATC CDC Helps Provide a 'Healthy Start in Life' at BUH"
North Battleford, SK – Battlefords Union Hospital (BUH) Foundation is pleased to announce the continued support of BATC Community Development Corporation (BATC CDC) as they contribute $50,000 to the Women's Health & Birthing Centre (WHBC) at BUH. This funding will help to purchase a new Infant Incubator and two new BiliSoft LED Phototherapy Systems. BATC CDC has been supporting BUH Foundation since their inception in 2007 and BUH Foundation is grateful for their support.
"It is an honour to receive this donation from BATC CDC. They are a valued organization that give back to many local causes and the fact that they continue to choose BUH Foundation to support shows that the work being done here is important and makes a difference," shares Jerry Wintonyk, BUH Foundation Volunteer Chair.
BATC CDC has previously helped to fund equipment such as the Cobas 6000 Blood Analyzer and a Tissue Processor for the Laboratory, monitoring equipment for the Intensive Care Unit, and an Endoscopic Tower for the Surgical department. BATC CDC has also been a proud sponsor and participant of BUH Foundation's Festival of Trees. With over $460,000 in funding, they have helped to purchase many vital pieces of equipment to enrich patient care at BUH. It is a small example of the community support BATC CDC provides.
"BATC CDC is pleased to be able to provide funding under the Health Initiative to BUH Foundation. We believe in the work being done and want to ensure that the members of our community have the best medical care available," states Chief Lori Whitecalf, BATC CDC Board Member and Chief of Sweetgrass First Nation.
Through the purchase of the Infant Incubator and BiliSoft LED Phototherapy Systems, BATC CDC will help to provide a healthy start in life to babies born at BUH. Infant Incubators create a healing environment while promoting growth and stability for newborns and the BiliSoft LED Phototherapy System is a new type of system used to treat jaundice. It will replace the traditional method of babies lying under a light, and will now allow parents and caregivers to wrap the baby in a blanket and hold them during treatment.
"The purchase of these items are a wonderful addition to our WHBC at BUH, ones we were eager to see happen. Our focus at BUH is on patient safety and patient centred care, and this new equipment will fulfill this as we provide the high standard of care expected. Thank you to BATC CDC for supporting our endeavours," expresses Shelly Horsman, Director of Acute Care Services at BUH.
If you would like further information on how you too can support the Women's Health & Birthing Centre at BUH please visit www.buhfoundation.com or call 306-446-6652.