Media Release
Meota Lakeshore Lions Club Give to Home Care
May 3rd 2012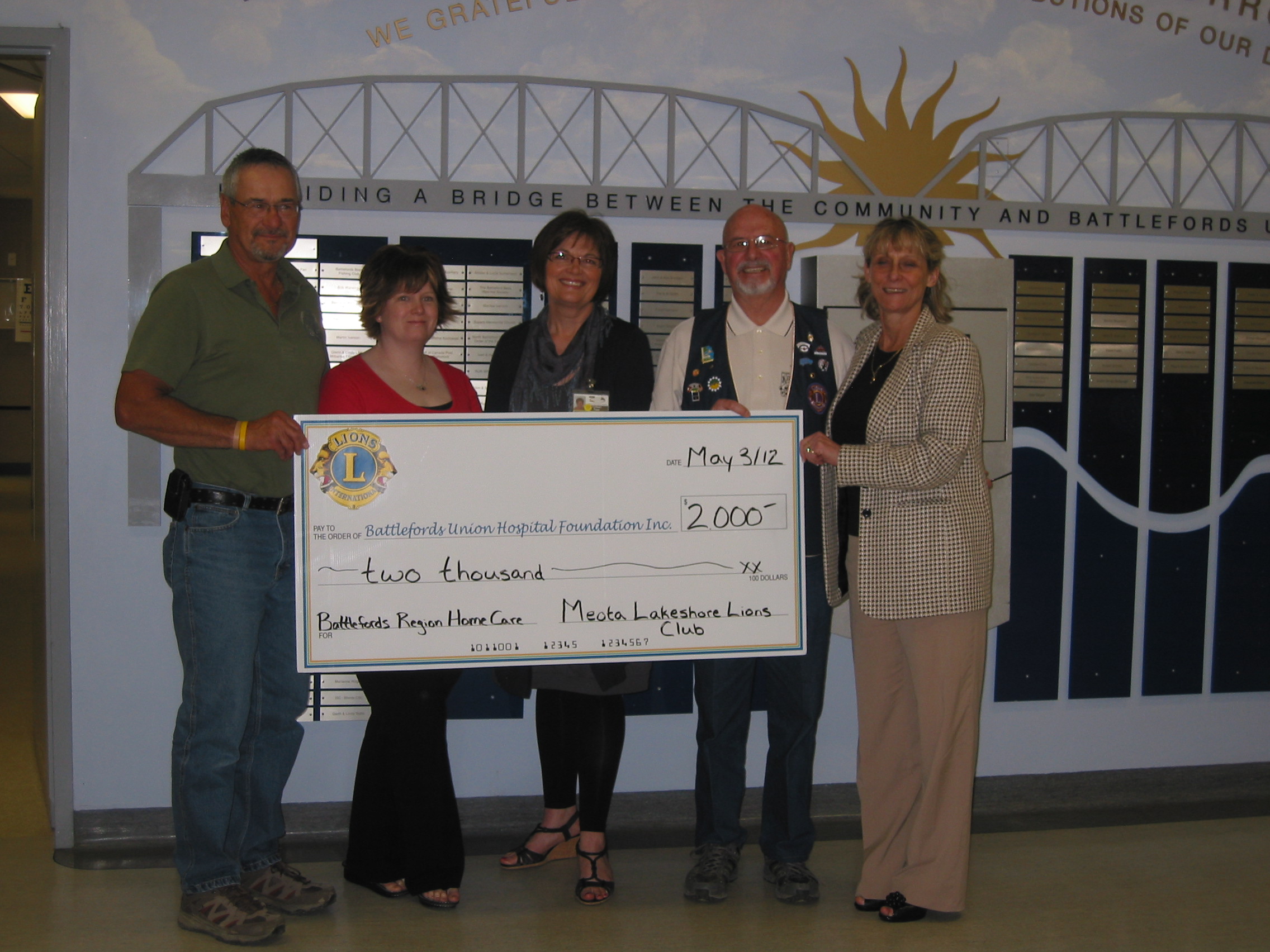 (l-r) Jerry Wintonyk, BUHF Chairperson; Jodie Huber, Home Care Team Manager; Colleen Toye, Home Care Manager; Lawrie Ward, Meota Lakeshore Lions Club President; Claudette McGuire, BUHF Executive Director
Meota Lakeshore Lions Club are the first to give to Battlefords Union Hospital (BUH) Foundation's newly formed Home Care Fund. Meota Lakeshore Lions Club's contribution of $2,000.00 will go towards enriching the care provided to patients of Battlefords Region Home Care through the purchase of medical equipment and continued staff education.
"Meota Lakeshore Lions Club is proud to give back and support healthcare in our community. It's an area of life that affects everyone and we are pleased to be able to help make a difference," states Lawrie Ward, Club President.
Meota Lakeshore Lions Club began supporting BUH Foundation in 2001, helping with the purchase of new medical equipment. Throughout their history they have given back over $200,000, supporting international projects and many Meota organizations, including Meota Library, Do Drop Inn, Fitness Centre, Curling Rink, Regional Park, and Community Hall. They also assist with Lions organizations such as the Lions Eye Bank, Lions Foundation of Canada Dog Guides, and Youth Exchange. This year they are pleased to be sponsoring the Cavalcade for Diabetes which brings Lions Clubs together from all over the province to donate to the Canadian Diabetes Association.
"BUH Foundation is very grateful to receive this contribution from Meota Lakeshore Lions Club. They are a Club recognizing the difference community involvement makes to improve our world and make it a better place, and we are pleased they chose to do that for Home Care," expresses Claudette McGuire, Executive Director, BUH Foundation.
Home Care is a new area of funding for BUH Foundation, as the direction of acute and long-term care shifts. As patients are discharged from hospital sooner, follow-up care is provided in the comfort of their own home. As well, patients with heavier care needs can be supported to stay in their home for as long as possible, potentially delaying admission into a long-term care facility. In order to accommodate these changes, to meet patient needs safely, and to follow the desires of the patients, proper equipment and staff education is required.
"Thank you to Meota Lakeshore Lions Club for their support of the Home Care program. With service provided to 875 people within Battlefords Region it is important we have the equipment and continued education to meet our needs, and their support will help make this possible," states Colleen Toye, Home Care Manager.
If you would like further information on how you too can support the Home Care Fund at BUH please visit www.buhfoundation.com or call 306-446-6652.
-30-
MEDIA:
For more information, contact:
Lawrie Ward
Meota Lakeshore Lions Club, President
Ph. (306) 892-2517
Claudette McGuire
BUH Foundation Executive Director
Ph. (306) 446-6652
About Meota Lakeshore Lions Club:
Meota Lakeshore Lions Club was formed in 1984 and currently has 29 members. They are a part of the world's largest service club organization, having 1.35 million Lions members in 46,000 clubs. With a motto of "We Serve" the Lions Clubs are dedicated to serving others and to making a difference in people's lives, giving back not only to their own community, but also around the world. Meota Lakeshore Lions Club coordinates fundraising efforts, including Bingos, tending the Bar at community functions, bottle drives, Car Sink, and a Fall Supper in order to support their projects.
About Battlefords Union Hospital (BUH) Foundation:
Battlefords Union Hospital (BUH) Foundation is dedicated to enriching patient care at BUH through responsible stewardship of community contributions and volunteer resources. BUH Foundation, operating independently of other healthcare organizations, is the main fundraising agency of BUH and provides funding for the purchase of capital/non-capital equipment and staff education. Through a bequest from Victor Pearsall in 2011, BUH Foundation began the Victor Pearsall Home Care Fund allowing funding for Battlefords Region Home Care. For more about BUH Foundation visit www.buhfoundation.com.