Media Release
BATC CDC Gives $100,000 to ICU
July 17th 2009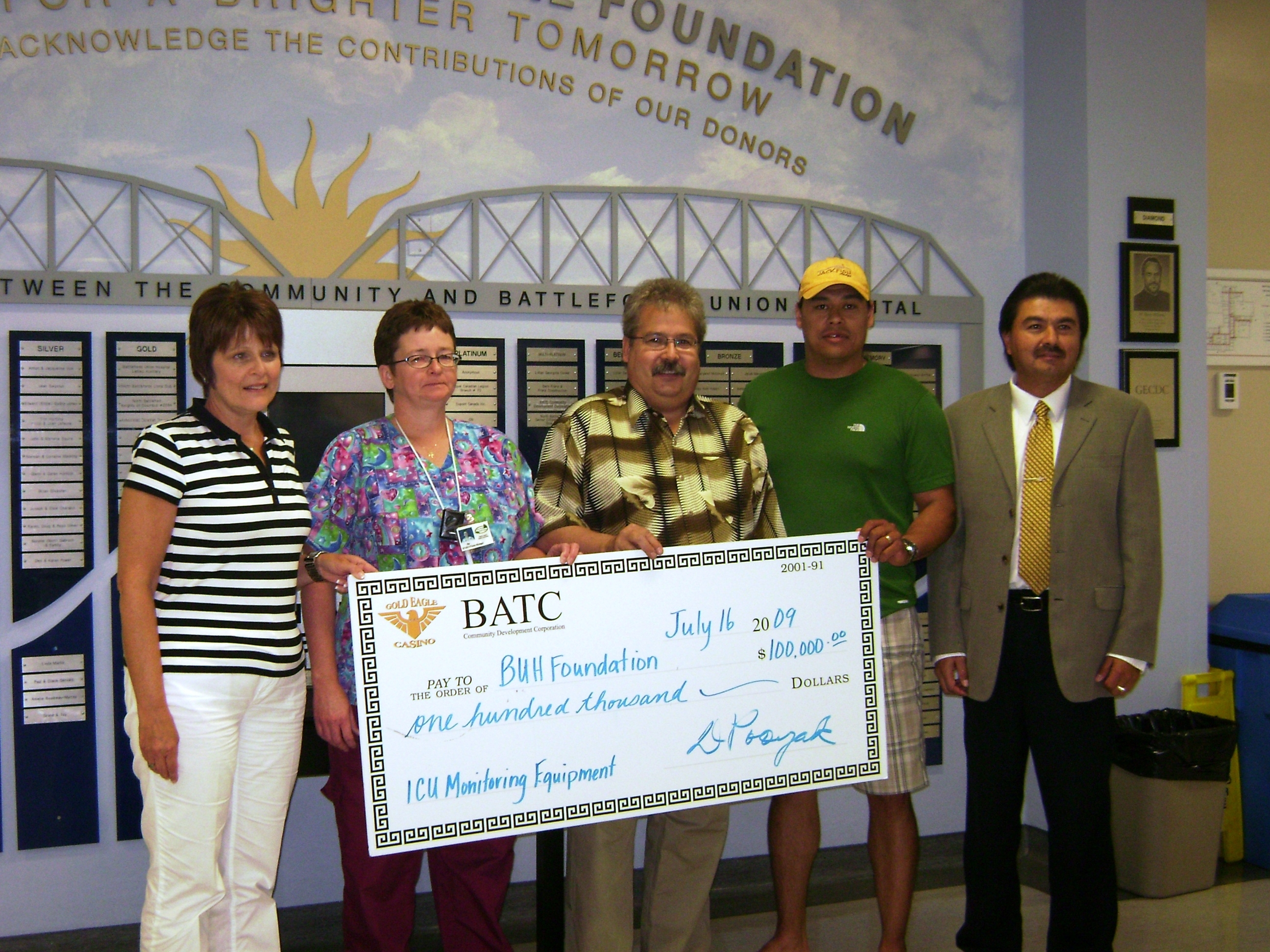 (l-r) Accepting the funds are BUH Foundation Chair, Cheryl Gantefoer and ICU Nurse Unit Manager, Pat McWatters. They were presented by BATC CDC Board Members, Garth Walls and Chief Sheldon Wuttunee and the GM of Gold Eagle Casino, Kelly Atcheynum.
Battlefords Union Hospital (BUH) Foundation is pleased to announce a generous donation from a community builder. BATC Community Development Corporation presented $100,000 to BUH Foundation on Thursday, July 16th. These funds are designated towards the Intensive Care Unit (ICU) at BUH and have helped to purchase Main Monitoring equipment for the department.
The Main Monitoring equipment has the ability to monitor 8 patients, 4 within ICU and 4 telemetry patients. The unit will monitor the patient's heart rate and rhythm, blood pressure, oxygen saturation, arterial lines, and central lines. The telemetry units monitor the patient's heart rate and rhythm while they up and about the hospital or on a different ward. All the system's monitoring capabilities can be set to an alarm when outside a particular range and can be set to take blood pressure on scheduled settings and alarm when the reading is not within a particular range. This allows the ICU staff to monitor the patient, without being at their bedside on a continual basis. If there are no patients in ICU the monitor can be flipped to the ER, allowing ICU staff to assist in ER and continue to monitor patients on the telemetry units.
The Main Monitoring Equipment is essential for the well-being of the patients in ICU, which is specially designed for patient-focused care. BUH Foundation would like to thank BATC CDC for their contribution towards the ICU, and for helping to enhance patient care. The Foundation appreciates the continued support they have received from BATC CDC and for their dedication to giving back to their communities in a lasting way.