We may not be able to golf the actual course together in 2020, but we're going to "golf" it together virtually!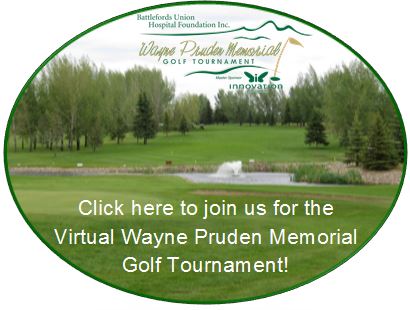 With our goal of raising $54,000 to purchase new, up-to-date medical equipment for The Battlefords & surrounding area, it will take $3,000 to "golf" each hole.
It's simple, but we know it will take commitment and generosity to get there.
1) You "golf" by sponsoring, donating your golfer registration fee, or another donation amount.
2) We'll update our progress on the course daily and send a weekly email.
3) You may participate further by purchasing 50/50 tickets (SR20-0030), answering trivia questions, entering for Best Dressed Team, submitting a video clip and inviting others to join! Follow the progress on this site and attend the event online through BUH Foundation's Facebook page. Be part of the excitement and all the latest happenings!
Trivia Questions #1 - 14. Trivia Question Answers!
4) Together, while staying apart, we will "golf" the course and enrich healthcare for our family, friends and neighbours.
Thank you for "golfing" with us and continuing the tradition and legacy of raising funds in honour of Wayne and enriching patient care.
We are grateful.