Ladies Night - Sponsors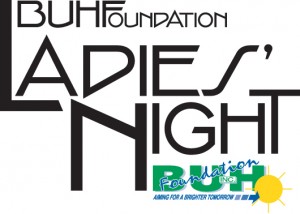 Sugar & Spice Naughty & Nice...
THANK YOU to all our sponsors who make this event possible and contribute to its success.
The BUH Foundation Board of Directors and Ladies' Night Commitee expresses our heartfelt gratitude for our sponsors wholeheartedly embracing healthcare in the Battlefords with their continued support.
2016 SPONSORS

Gold Sponsor:
G & C Asphalt & Ready Mix
"Girls Just Wanna Have Fun" Sponsor:
Scott Campbell Dodge Ltd.
Craig & Co.
Maunula Electric Ltd.

"To be naughty or nice... oh decisions" Evening Sponsor:
Kramer Auctions Ltd.

Bid Paddle Sponsor:
Territorial Dental Clinic

Diamond Ring Sponsor:
Zeke's Jewellers

Contributors & Supporters:
Master of Ceremonies: Kevin Steinborn
Core Sound DJ Services: Colin Emberley
Official "Ladies Night" Photographer-Beautiful Beholder Photography
Cindy Suski, Peller Estates, Wine Respresentative
"You can do anything you want..if you dress for it" $500 Gift Certificate Sponsored by Craig & Co.
Desserts Sponsored by Frazer & Jennifer Bonin 'no frills'
"Sweet Beginnings" Sponsored by Nutter's Bulk & Natural Foods
"Home safe & Sound"Sponsored by Sallows & McDonald-Wilson & Zehner Funeral Home
"Home safe & sound' Sponsored by Cloud 9 Limousine Service

Live Auction Contributors:
"Pamper Your Car For A Year" by Oil Can Charles's, Betty Bubbles
"Dine, Dress and Ride" by Boutique Noir, Cloud 9 Services, Porta Bella Restaurant & Bar
"Fly, Dine and Fly" by Scott Campbell
"Paint the Night Away" by Paint Nite, Blend Restaurant & Bar
"Dreaming On The Green" by Aquadeao Beach Golf Course
Raffle and Silent Auction Contributors:
Alchemy Clothing and Salon
Arbonne International - Lisa Nordstrom
Arbonne International - Kori Humenny
Arbonne International - Allison Oborowsky
Armour Clean
ARTrageous
Avon - Pam Plummer
Barnwood Customs
Battlefords Co-op Aquatic Centre/
Nations West Fieldhouse
Battlefords Fit Body Boot Camp
Beauty Spot Lash Bar
Bobbi Wright Psychic Medium
Boston Pizza
Boutique Noir
Brio Fashion Boutique
BUH and Home Care Staff
CAMP Z3N - Lori Pruden
Culligan Water Conditioning
Doug's Paint Shoppe
Dragon Heart Tattoo & Piercing
Dream Realty
Epicure - Christine George
FF2
Get Nailed by Crystal
Glow Sun Studio
Gutters Bowling and Gaming Centre
Guy's Furniture
Hardy Plant Nursery
Inspire Salon
It Works - Randi McCabe
Jay's Creations
jr birdhouses
Lifetime Fitness
Luk Plumbing, Heating and Electric

Mandy May Photography
Mary Kay – Tiffany Brown
Marya Devonshire
Milbanke Flowers and Home Décor
Monat – Brooke Schilz
Nichole Krelow Catering
North Star Pizza
Norwex – Meagan Fransoo
Norwex – Rhonda Head
Nova Fitness Centre & Massage
Nucerity – Brandi Nelson
Nufloors
Pampered Chef – Sally Crisp
Peekaboo Beans – Jamie Killoran
Platinum Salon and Spa
Prairie Diamond – Brielle Jesney
Pure Essence Studio
Pure Romance by Mandy
Rainbow Toyota
Renee Dawn Photo
Scentsy- Stacey Cheyne
Seacret – Melissa Hutchison
Silver Icing – Jennilee Weber
Snap Fitness
Stella and Dot – Krisy Wandler
Sunstone Holistic Health and Healing
SweetLegs – Jose Pruden
31 Bags – Brittany Corbeil
Tiger and Tosh – Nicole Berg
Tiger Lily Ranch / Claudette McGuire
Tupperware – Jessica Raycraft
UpperCase Living – Connie Steen-Kitson
Usborne Books – Susie Lalond
Young Living Oils – Kim Flath
Younique – Debra Jordan

Table Item Contributors:
Beauty Spot Lash Bar
Craig & Co.
FF2
Seacret - Christina Neigum
Shoppers Drug Mart
Boutique Noir
Tupperware - Jessica Raycraft

Big Thank You to the Volunteers:
Doctors and Staff members of BUH's Laboratory, and Ray Oleshko and his
team of coat checkers... you are simpy amazing!!!